US President Barack Obama said Tuesday he hoped for direct Middle East peace talks to start before the end of September, as he and Israeli Prime Minister Benjamin Netanyahu denied reports of a rift.
The two leaders sat close together in the Oval Office and staged a prolonged handshake for the cameras, seeking to put to rest a tense, behind closed-doors White House encounter in March.
"I believe that Prime Minister Netanyahu wants peace. I think he's willing to take risks for peace," Obama said, and strongly disputed a question which suggested the bond between Israel and the United States had frayed.
"The fact of the matter is, is that I've trusted Prime Minister Netanyahu since I met him before I was elected president and have said so both publicly and privately."
The talks went ahead amid intense interest on a partial Israeli freeze on settlement building which is due to expire at the end of September.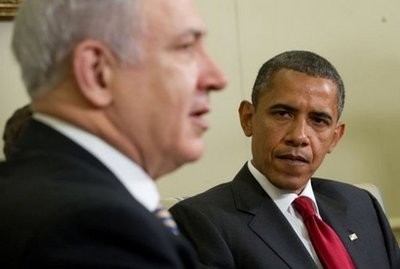 US President Barack Obama (R) addresses the press alongside Israel's Prime Minister Benjamin Netanyahu during meetings in the Oval Office of the White House in Washington, DC
Obama finessed the issue by saying he hoped progress towards direct negotiations from indirect US-brokered proximity talks between Israelis and Palestinians would render that deadline irrelevant.
"My hope is that once direct talks have begun, well before the moratorium has expired, that that will create a climate in which everybody feels a greater investment in success," he said.
Netanyahu says he is ready to meet Palestinian president Mahmud Abbas at any time, but the Palestinians have yet to commit to direct talks, accusing Israel of undermining the atmosphere with continuing settlement activity.
He said he and Obama had discussed "concrete" steps that could be taken now.
"When I say 'the next few weeks,' that's what I mean. The president means that too."
The challenge now will be to get the Palestinians to accept the time frame that Obama has in mind. The initial reaction from the Palestinians hinted at the difficulty of an ambitious timeline.
Abbas "insists on the necessity of progress in indirect negotiations on core issues (borders, security) before going to direct negotiations," his spokesman Nabil Abu Rudeina told AFP by telephone.
The Israeli leader is under extreme pressure from his right-wing coalition not to cave in to any US pressure to extend the moratorium, announced in November after Obama pushed for concessions to the Palestinians.
Obama's comments may be a sign he has concluded that Netanyahu's tricky political position will prevent an extension.
Netanyahu warned that the prime threat facing Israel was Iran's nuclear program, and praised new US sanctions against Tehran as having "teeth" while calling for "much tougher" action from other nations.
And he said suggestions that Israel and the United States were drifting apart were not just "premature" but "flat wrong."
Obama also reassured Netanyahu that his administration had made "no change" to its policy regarding Israel's undeclared nuclear arsenal, amid concern among Israelis over his campaign for a nuclear free world.
Obama and Netanyahu appeared friendly towards one another, but their stern expressions at times reflected the grave nature of their talks. Both sides however seemed to want to put their spat into the past.
Netanyahu said it was "about time" that Obama visited Israel. "I'm ready," Obama said, without mentioning a date.
In March, Netanyahu was denied even a photo-op with Obama as a row raged over settlement expansion. This time, reporters were invited to watch the US leader see the premier to his limousine and give him a wave goodbye.
Cementing the friendly tone, US First Lady Michelle Obama invited Netanyahu's wife Sara for afternoon tea.
Obama and Netanyahu were meeting for the first time since Israel's raid on an aid flotilla headed for Gaza in May, which killed nine Turks, and triggered a regional diplomatic crisis.
Israel on Monday gave the go-ahead for the international community to import construction materials into Gaza for projects under international supervision.
Obama commended Netanyahu for the move.
"We've seen real progress on the ground. I think it's been acknowledged that it has moved more quickly and more effectively than many people anticipated."
Both sides appeared to have decided to keep any disputes behind closed doors.
"There are going to be times where, you know, he and I are having robust discussions about what kind of choices need to be made," Obama said.
"But the underlying approach never changes, and that is, the United States is committed to Israel's security."