US President Barack Obama and his Chinese counterpart Hu Jintao opened bilateral talks on Tuesday at the Great Hall of the People, where the US leader was greeted with pomp and circumstance.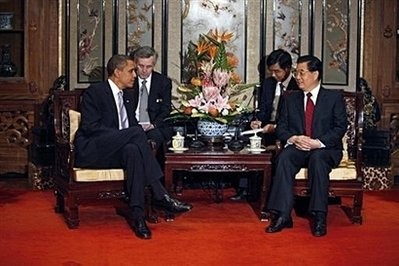 US President Barack Obama (L) speaks with Chinese President Hu Jintao (R) after his arrival at the Diaoyutai state guest house in Beijing. (AFP Photo)
A military honour guard and a brass band welcomed the US president, who is making his first visit to the Asian giant since taking office in January.
The band played the national anthems of both countries, and each president introduced his delegation to the other, an AFP reporter saw.
The leaders were expected to focus on economic and trade issues, especially the value of the Chinese yuan and trade tensions, with Beijing repeatedly accusing the United States in recent months of protectionism.
The disputed nuclear programmes of Iran and North Korea were also expected to be discussed.
Obama and Hu were expected to speak to the press after their meetings.