President Barack Obama launches an economic whirlwind this week, signing the newly passed $787 billion economic stimulus package in Colorado, before moving to Arizona to tackle the home mortgage foreclosure crisis.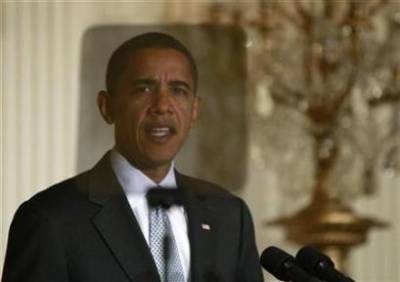 U.S President Barack Obama speaks on the economic stimulus package to be voted on Capitol Hill, during an event in the East Room of the White House in Washington, February 13, 2009
As he struggles to lift the country from the worst economic downturn since the Great Depression of the 1930s, Obama termed passage of the stimulus package a "major milestone on our road to recovery."
Of perhaps equal importance will be his effort to reverse the collapsing housing market that triggered a financial crisis of still-unknown proportions.
The stimulus package, which found no Republican support in the House and survived with three GOP votes in the Senate, aims to save or create as many as 3.5 million jobs through massive government investment while boosting consumer spending through modest tax cuts.
While details of the mortgage plan are under wraps, it is intended as a counteroffensive against the housing collapse that has seen millions of Americans default on mortgages and lose their homes. As that crisis rippled through the financial industry, lending seized up as banks and investment houses realized they were holding trillions of dollars in bad assets.
Under an emergency $700 billion program passed late last year, the Bush administration used half of that fund to forestall a financial collapse. But the flow of credit did not ease and use of the money was highly criticized because it was poorly administered and allowed banks and investment houses to spend the money recklessly.
Obama is now working to leverage the second portion of the bailout money into a program that could result in $2 trillion in government and private sector cash infusions to help banks and investment houses clear away some of their "toxic" holdings and thereby spur lending. The part of his plan to help homeowners facing foreclosure is also intended to boost confidence in the financial community.
The president traveled around the country last week to promote his plans. Polls show his support among Americans running well above his nearly 53-percent victory margin in the November election, a fact that he has used effectively against Republican recalcitrance in Congress for support of his economic stimulus plans.
By signing the stimulus bill into law Tuesday in Denver and detailing his mortgage rescue proposal the next day in Phoenix, Obama will continue taking his message directly to the people. Both actions show he is sidestepping the partisanship still gripping Washington despite his efforts to massage the Republican opposition.
Speaking in his weekly radio and Internet address, Obama said, "I will sign this legislation into law shortly, and we'll begin making the immediate investments necessary to put people back to work doing the work America needs done."
At the same time, he cautioned, "The problems that led us into this crisis are deep and widespread, and our response must be equal to the task."
Conservatives in both houses have been relentless critics, arguing the $787 billion stimulus measure is filled with wasteful spending and that greater tax cuts would be more effective in creating jobs.