US President - elect Barack Obama nominated Hillary Clinton to be a "tough" secretary of state and persuaded Defense Secretary Robert Gates to stay on but gave him a new mission -- ending the war in Iraq.
Debuting his national security team in Chicago, the president-elect said the decision to enlist his former bitter political foe came not in a "light bulb moment" but after a gradual realization she was the best face for US diplomacy.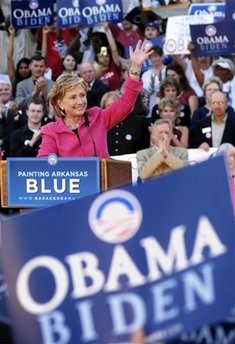 Hillary Clinton

in her campaigning for Obama
"She's an American of tremendous stature who will have my complete confidence, who knows many of the world's leaders, who will command respect in every capital," Obama said.
Clinton , who must now give up her beloved New York Senate seat and narrowly lost a bitter Democratic nominating battle to Obama, vowed she would give "this assignment, your administration and my country, my all."
In her new job, the latest stunning twist in the Clinton political saga, the former first lady said she would ignite new momentum in US diplomacy after the frayed alliances and recriminations of George W. Bush's presidency.
"The American people have demanded not just a new direction at home, but a new effort to renew America's standing in the world as a force for positive change," she said.
While stressing the importance of diplomacy, Obama struck hawkish notes which may discomfort some of his more dovish backers, warning the United States should keep the world's strongest military and would chase down terrorists.
"In this uncertain world, the time has come for a new beginning, a new dawn of American leadership to overcome the challenges of the 21st century," Obama said, days after the Mumbai terror attacks sparked a new foreign crisis.
The decision to ask Gates to stay on was meant to send a clear sign of continuity with America locked in wars in Afghanistan and Iraq.
Gates said he had decided that with US troops fighting abroad, he felt obligated to stay at the Pentagon.
"I must do my duty as they do theirs. How could I do otherwise?" Gates said.
But Obama made clear that after campaigning on a vow to end the war in Iraq, Gates must follow a new political master.
"I will be giving Secretary Gates and our military a new mission as soon as I take office, responsibly ending the war in Iraq through a successful transition to Iraqi control," said Obama, who is to be inaugurated January 20.
"As Bob (Gates) said not too long ago, Afghanistan is where the war on terror began, and it is where it must end."
Obama also sent a clear signal to US foes that his well known opposition to the Iraq war would not mean he would hesitate to commit military force if US interests were threatened.
"To ensure prosperity here at home and peace abroad, we all share the belief we have to maintain the strongest military on the planet," Obama said.
Obama also named former NATO commander and marine general James Jones to be his national security advisor in a foreign policy line-up rich in global experience and wise in the ways of brutal back corridor Washington politics.
The new team will take up the reins in January and will have to get US troops home from Iraq, deal with Iran's nuclear drive, and mitigate deteriorating conditions in the Afghan war.
They must confront a resurgent Russia, repair tattered US ties abroad, and target global warming efforts, while the widening financial crisis threatens to further destabilize fragile world security.
France and the European Union immediately hailed Clinton's nomination, saying they could work closely together, while Russia struck a pessimistic note.
"These nominations inspire no optimism whatsoever," the Russian lower house's foreign affairs commission chief, Konstantin Kossachev, was quoted as saying by Interfax news agency.
Obama introduced his foreign policy advisor Susan Rice , who has a hawkish view on using force to halt genocide, as the next US permanent representative to the United Nations and former justice department official Eric Holder as Attorney General.
Arizona governor Janet Napolitano was meanwhile named Homeland Security chief, at a press conference which saw Obama flanked by his new team, against a backdrop of American flags.
The president-elect was careful not to intervene in ongoing US diplomatic efforts to quell tensions in South Asia following last week's Mumbai rampage which killed more than 170 people including six Americans.
But he said he had been repeatedly briefed by Secretary of State Condoleezza Rice, who heads to India this week, and had spoken to Indian Prime Minister Manmohan Singh over the weekend.