HANOI, July 23, 2010 (AFP) - President Barack Obama will invite Southeast Asian leaders to a summit in Washington later this year, US Secretary of State Hillary Clinton said Friday.
"President Obama plans to invite ASEAN leaders to a second US-ASEAN leaders' meeting in the United States this coming autumn," Clinton said in remarks to the 27-member ASEAN Regional Forum security dialogue.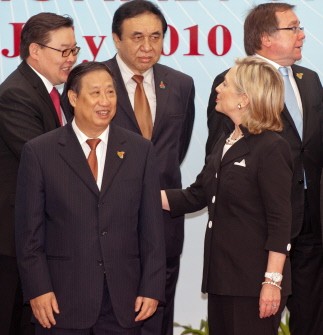 Vietnamese deputy prime minister Foreign Minister Pham Gia Khiem (Front L) stands next to US secretary of state Hillary Clinton (front R) as she greets other delegates during a group photo at the 17th ASEAN Regional forum July 23, 2010 in Hanoi. AFP
The Washington talks will follow the inaugural meeting that Obama held last year in Singapore with his counterparts from the Association of Southeast Asian Nations (ASEAN).
His administration has sought to pay more attention to a region that felt neglected by former president George W. Bush's government, which was preoccupied with wars in Iraq and Afghanistan.
"A key element of our strategy is to strengthen regional and global institutions," Clinton said.
"We see ASEAN and the ASEAN Regional Forum as important pieces of a strong, effective architecture for security and prosperity in Asia. So we seek both to support these institutions and work more closely with them," Clinton explained, according to her prepared remarks.
At talks in Hanoi this week, ASEAN foreign ministers agreed to invite the US and Russia to join a key regional dialogue known as the East Asia Summit.
Diplomats said their inclusion would help to "counterbalance" the dominance of rising regional power China.
Clinton said Obama will not be able to join this year's East Asia Summit in October but she will attend, with a view towards Obama's participation next year.
Clinton said the US looks forward "to engaging with the East Asia Summit as it seeks to become a foundational security and political institution for Asia in this century."
In another sign of US engagement with the region, Clinton said US Defense Secretary Robert Gates will join a regional defence ministers' meeting to be held in Vietnam in October.
Southeast Asia, a region of nearly 600 million people, is America's sixth-largest export market and hosts more US business investment than China, Clinton said on Thursday.