The world economic crisis could put 25 million people out of work, the OECD warned on Monday, as Japan's iconic Toyota auto company forecast its first ever operating loss and European stocks slipped.
The head of the Organisation for Economic Cooperation and Development in Paris, Angel Gurria, took aim in an interview with France's BFM Radio at what he said had been "a truly scandalous failure of regulation" in the crisis.
"We're heading for a loss of... 20 to 25 million in the world as a whole between now and 2010," Gurria said, adding that a recession in the OECD's 30 industrialised economies would continue for much of next year.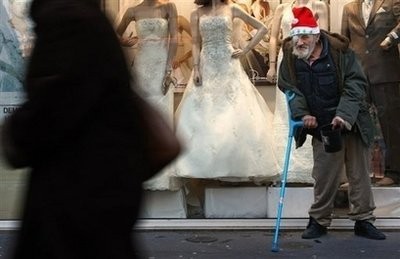 A 78-year-old homeless man wearing a Santa hat begs for money on the streets of Paris last month
"We predict a recovery at the end of 2009 and weak growth in 2010," he said.
Gurria added that European countries should "go beyond" the spending announced in their fiscal stimulus plans in order to match the billions being allocated in China, Japan and the United States to kickstart their economies.
The European Central Bank's top economist Juergen Stark also warned in an interview with a German regional daily that eurozone economies would contract in 2009 before having "a gradual rebound" at the end of next year.
The warnings came after the Toyota auto giant, which vies with GM for the crown of the world's largest automaker, said it faced an "unprecedented crisis" and expected a loss of 150 billion yen (1.69 billion dollars) this year.
It would be Toyota's first loss since it started reporting earnings in 1941.
Toyota's forecast was matched by downbeat news from Europe, where the CAC 40 stock market index in Paris plunged 2.31 percent at the close, the Frankfurt DAX was down 1.23 percent and the FTSE in London slid 0.88 percent on pre-Christmas gloom.
Share prices were also down in early trading on Wall Street.
A poll in Germany showed consumer confidence in Europe's biggest economy has stagnated at less than half the rate at which it was in December 2007.
Russia's biggest car plant, Avtovaz, part owned by France's Renault, said it was suspending production for January because of the economic crisis.
In the eurozone economies, industrial orders were down 4.3 percent in October compared to September, falling by 15.1 percent year-on-year, data published by the European statistics office Eurostat showed.
And a report put out by the OECD warned that the world Internet economy could shrink next year as the semiconductor industry contracts by almost six percent and corporate customers make cuts in their budgets.
Despite the lengthening shadows, Tokyo's Nikkei stock market index gained 1.57 percent on Monday. In Hong Kong however shares dived 3.3 percent, Shanghai lost 1.52 percent and Sydney closed 1.6 percent down.
Toyota's forecast also came as new data in Japan, the world's second-biggest economy after the United States, showed a record drop in exports and the government forecast that the economy was getting worse.
"If we don't do anything, Japan will absolutely get mired down," Economy and Fiscal Policy Minister Kaoru Yosano said of the data.
Hiroshi Watanabe, an economist at the Daiwa Institute of Research, said: "Japan has been hit by an unprecedented, sudden change in climate."
Amid nosediving oil prices, the world's biggest crude producer, Saudi Arabia, also said on Monday that it would cut government spending next year by 6.9 percent to 475 billion riyals (127 billion dollars).
Meanwhile there were fresh moves to stop the meltdown in the United States, with US president-elect Barack Obama adding 500,000 jobs to a 2.5-million-job creation goal and preparing a new stimulus package for the US economy.
In a newspaper interview, British Prime Minister Gordon Brown also promised to create at least 100,000 new jobs through a 10-billion-pound (14.7-billion-dollar, 10.6-billion-euro) investment in infrastructure.
The Bank of England's deputy governor John Gieve said in an interview with BBC television that the bank had under-estimated how serious the credit crunch would be even though it knew that "crazy borrowing" was taking place.
Gieve said that the Bank of England had predicted a correction as far back as two years ago, but he added: "We didn't think it was going to be anything like as severe as it turned out to be."