World oil traded above 36 dollars on Friday, at its lowest levels in more than four years, after OPEC's announcement of a record production cut failed to rally prices.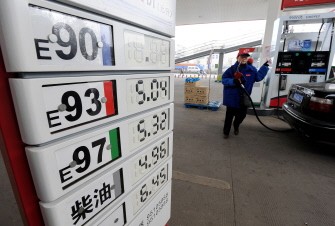 A Chinese attendant fills the tank of a car at a gas station in Heifei, central China's Anhui province on December 19, 2008. (AFP Photo)
New York's main futures contract, light sweet crude for delivery in January, traded at 36.36 dollars a barrel in afternoon trade, off its morning low of 36.00.
On Thursday the contract dived 3.84 dollars to 36.22 dollars, its weakest finish since July 2004, on the New York Mercantile Exchange.
Brent North Sea crude for February delivery gained 52 cents to 43.88 dollars a barrel in the afternoon after slumping 2.17 dollars to settle at 43.36 dollars a barrel on Thursday in London.
Prices held reasonably steady as traders did not want to take unnecessary risks in a "crazy market," said Ken Hasegawa, manager of the energy desk of Newedge Japan brokerage in Tokyo.
He added traders were watching the market carefully after recent events, and their reluctance might also be due to the expiry later Friday of New York's January futures contract.
However, Hasegawa expected buyer interest to return soon. "After the new year, everyone will jump back in," he said.
A slowing global economy and resulting fears of weaker energy demand have pulled prices down from record highs of 147 dollars a barrel reached in July.
In a bid to shore up prices, ministers of the Organisation of the Petroleum Exporting Countries (OPEC) on Wednesday approved a record output cut of 2.2 million barrels a day, about 7.0 percent of the cartel's output quota.
Before the latest cuts, OPEC's official daily output target was 27.3 million barrels a day.
Analysts had questioned whether the latest reduction would be sufficient against rapidly falling demand with some of the world's leading industrialised oil consumers -- the United States, Germany and Japan -- already in recession.
Others, including China, are experiencing sharp slowdowns.
"The verdict (of falling prices) was a resounding vote of no-confidence in the cartel's ability to curtail production given its previous tendencies to backslide on commitments, particularly by countries who are financially strapped," said MF Global oil analyst Ed Meir.
OPEC's members produce about 40 percent of the world's crude.