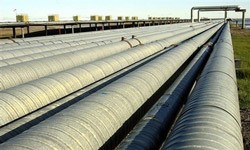 Oil transit and other pipelines run along a row of oil pump houses at the Prudhoe Bay oil field on Alaska's North Slope (AFP Photo)
BP Exploration Alaska announced shutting half its oil production in the Alaska North Slopes because the discovery of a severe corrosion in a Prudhoe Bay oil transit line. The shutting will affect about 400,000 dollars of oil per day, or 8.0 percent of US production.
It also comes at a time when oil prices are under strong pressure from geopolitical tensions in the Middle East and Nigeria, Africa's biggest oil exporter.
At 2:50 pm (0650 GMT), New York's main contract, light sweet crude for delivery in September was up 1.24 dollars to 76.00 dollars a barrel from its close of 74.76 dollars in the United States on Friday.
Prices touched an intra-day high of 76.05 in electronic trade, but were still below the all-time record of 78.40 dollars a barrel reached on July 14.
Brent North Sea crude for September delivery was up 97 cents to 77.11, off its all-time peak of 78.18 on July 17.
"Besides the usual stuff in the Middle East conflict, the problem in the Alaska North Slopes area has affected the oil prices in the world" said dealers.
Victor Shum, a Singapore-based analyst with energy consultancy Purvin and Gertz said the shutdown would have minimal impact in the near term as US crude oil inventory remains high, but this would still depend on how serious the problem in the Alaska pipeline is.
Analysts said the shutdown came at a "bad timing", with prices already being pushed higher by the Israeli offensive against Hezbollah militants in Lebanon and threats to Nigeria's oil industry.
"The geopolitical tensions are a psychological factor for the market, but they're important factors," said Tetsu Emori, chief commodities strategist at Mitsui Bussan Futures in Tokyo.
Emori and other analysts fear the fighting between Israel and Hebollah could widen into a bigger war involving other countries in the Middle East.
The recent abductions of oil workers in Nigeria contributed to the market's volatility, Emori added.
Since January, attacks on oil facilities and personnel by separatist militants and communities have risen in the restive region, cutting oil exports by one quarter from Nigeria, which is the world's sixth-biggest oil exporter.
There was still no news on the whereabouts of four oil workers -- a German and three Filipinos -- several days after unidentified armed men kidnapped them in Nigeria's oil-rich southern Rivers State.
The German oil worker was kidnapped last Thursday along with his driver in Port Harcourt city, capital of Rivers State, while the three Filipinos working on a multi-billion-dollar liquefied gas project were abducted the following day at nearby Bonny Island in the same state.
Emori said the market was also waiting for leads from the US crude oil and gasoline inventory to be released Wednesday and results of a meeting of the US central bank to decide whether to continue a cycle of US interest rate increases.
The US central bank's federal open market committee (FOMC) meets on Tuesday.
Traders are speculating that the US Federal Reserve would bring a pause to its two-year campaign of rate increases after US jobs data released Friday came in well below expectations.
The employment figures came on top of news that the world's largest economy slowed markedly in the second quarter to a growth pace of just 2.5 percent, from the first quarter's red-hot expansion of 5.6 percent.
A slowdown in the US economy is expected to ease global oil demand as the United States is the world's biggest energy consumer, analysts have said.
Source: AFP