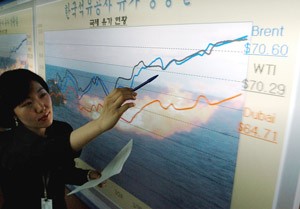 A Korean National Oil company official points to an electronic graphic on oil prices at its main office in Anyang on April 18, 2006 (AFP Photo)
Brent North Sea crude closed at 71.46 dollars a barrel. That was up 89 cents from Thursday's closing level in London, and just off a new high reached earlier Monday of 71.62 dollars.
In New York, light sweet crude for May delivery surged 1.08 dollars from Thursday to close at 70.40 dollars a barrel, testing levels not seen since last summer.
The New York and London markets were closed for the Good Friday holiday.
Crude prices had last set a record in New York of 70.85 dollars on August 30, after Hurricane Katrina hammered oil production facilities in the US Gulf of Mexico region.
Fimat analyst Mike Fitzpatrick said news that China's economy grew at a blistering pace of 10.2 percent in the first quarter confirmed for many "that overall global energy demand is set to remain strong".
Also, he said, a suicide bomb attack in Israel which killed nine people in Tel Aviv had fomented tensions in the Middle East.
Responsibility for the blast was claimed by the Palestinian militant group Islamic Jihad. Hamas, which recently formed a new Palestinian government, laid the blame at Israel's door for its "aggression."
"Now that Iran has pledged 50 million dollars in support of Hamas ... (it) can't help tensions in the region," Fitzpatrick said, after the United States and European Union suspended their funding for the Hamas-led administration.
Iran warned Washington Sunday against attacking its nuclear facilities, saying it had tens of thousands of would-be suicide bombers at the ready and could count on the support of militants across the region.
"The oil market is taking the threat seriously as Iran may have gone down the path that leads to the point of no return," Alaron Trading analyst Phil Flynn.
The crisis over Iran's nuclear ambitions has deepened since Tehran announced that scientists had managed to enrich uranium to the level needed to make reactor fuel.
Iran insists its programme is peaceful but Washington and its allies think the Islamic republic wants to develop a nuclear bomb.
The United States is now pushing for tough UN action, with several US press reports saying that military options are being developed.
Traders worry that US-led military action would disrupt vital oil supplies from Iran, which is the world's fourth-largest producer of crude with an output of four million barrels per day.
"And Iran is not the only oil hotspot on the globe right now," Flynn said, mentioning fears for supplies from Nigeria and Venezuela. "Small disruptions can quickly escalate to big-number problems."
But another potential supply problem has eased after Chad backed away from a threat to halt its oil production this week, pending US mediation in a dispute with the World Bank.
Two key issues are driving the market, said Victor Shum, an analyst with energy consultancy Purvin and Gertz in Singapore.
"One is the gasoline supply situation in the US and two is the issue over Iran," he said. "The issue is still there and it will continue to be with us."
Concerns over US gasoline supplies have mounted after the latest Department of Energy report last week showed another drop in stocks heading into the summer holidays, the peak driving season in the United States.
Gasoline inventories slumped 3.9 million barrels to 207.9 million in the week to April 7, according to the DoE. Analysts had expected a drop of just 2.1 million barrels.
Source: AFP