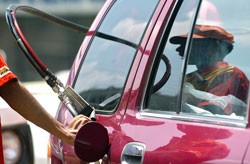 An employee of a Pakistani gasoline station fills the tank of a motorist in Karachi, 20 April 2006 (AFP Photo)
Oil prices were lower in Asian trade Friday on profit-taking after recent sustained gains to record highs amid concerns over tight US gasoline (petrol) supplies and tensions over Iran's nuclear ambitions, dealers said.
At 11:15 am (0315 GMT), the June New York light sweet crude contract was at 72.96 dollars a barrel, well off the finish of 73.69 dollars in US trade Thursday when it had hit 74.48 dollars.
The May contract had expired Thursday at 71.95 dollars after hitting a high of 72.49 in intra-day trade.
Brent North Sea crude was at 73.28 dollars after a peak of 74 dollars in London trade Thursday.
"I think it's down because it went up too high; it's just profit-taking, the market can't keep going straight up," said Tony Nunan an energy risk manager for Mitsubishi Corp in Tokyo.
"Even though we hit above the 70s, at these high levels, the market can go up or down a few dollars with the same fundamentals," he added.
Worries over a possible US-Iran conflict over Tehran's nuclear program had driven up prices in recent days.
Dealers said concerns over US gasoline supplies, another factor pushing up prices this week, may have calmed a little as high prices pegged back demand ahead of the American summer driving season.
"Gasoline prices have gotten so high that demand will be affected. Demand growth of gasoline is not that strong; it means that (prices) may have hit some resistance and (are) due for a correction," he said.
US gasoline inventories fell 5.4 million barrels last week, twice analysts' forecasts, sparking fears of a supply crunch.
However, Nunan warned that the supply situation was still uncertain due to the potential for fresh unrest in Nigeria.
"There is a high probability of further disruptions in Nigeria as we haven't seen the end of the attacks. The big problem is that going into the driving season, Nigerian refined crude is important for the US market, and if there are further disruptions, we are going to get a pop in crude prices," Nunan said.
Nigeria, Africa's biggest oil exporter has already had output cut by 20 percent due to attacks early this year on its foreign-owned oil installations.
Meanwhile, the political storm brewing between Iran and the United States showed no sign of abating Thursday as President George W. Bush worked hard to persuade Chinese President Hu Jintao over the possibility of the United Nations passing a motion against Iran.
Russia and China have been resistant to the possibility of sanctions towards Iran because of their strong strategic and economic ties with the Islamic nation.
Washington has accused Iran of working secretly to build nuclear weapons under cover of a nuclear energy program it is developing with Russian assistance.
Iran denies this charge and says the program is strictly for producing nuclear energy.
Although the possibility of a military strike is still distant, Nunan believes that the constant "sabre rattling" is adding tension into a market already strained with uncertainty.
"Last time, the market could handle uncertainty as there was a lot of slack but now because prices are so high, the market is not equipped to handle unplanned events," Nunan said.
Source: AFP