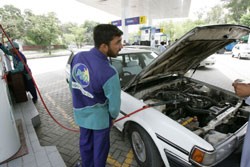 An employee of a Pakistani private gasoline station fills a vehicle in Islamabad, August 9, 2006 (AFP Photo)
Oil prices were lower in Asian hours Thursday despite a steeper-than-expected fall in US fuel stockpiles on hopes BP would avoid a complete shutdown of its Alaska operations, dealers said.
The Israeli cabinet's decision to widen its ground offensive against Hezbollah in Lebanon and continued strong energy demand in the United States and China are expected to support higher oil prices.
At 12:05 pm (0405 GMT), New York's main contract, light sweet crude for delivery in September, was at 76.25 dollars a barrel, down 10 cents from its close of 76.35 dollars in the United States on Wednesday.
Brent North Sea crude for September delivery was flat at 77.28 dollars.
Both benchmark contracts are trading below their historic highs of above 78 dollars a barrel.
Tony Nunan, manager for energy risk management at Mitsubishi Corp in Tokyo, said a statement by UK energy major BP its engineers were scrambling to prevent a complete shutdown of its Alaska operations may have calmed the market.
Prices shot up earlier this week after BP said it had started shutting down its oil field in Prudhoe Bay as it repairs a pipeline leak due to corrosion.
A complete shutdown would halt production totalling 400,000 barrels of oil per day, or 8.0 percent of daily US output.
But BP America chairman Bob Malone said Wednesday BP would try to keep at least 200,000 barrels per day of oil gushing. Engineers would make a decision between Friday and Monday on this, he said.
Analysts believe it will be many months before full output is resumed, although US Energy Secretary Samuel Bodman said Tuesday that he had been assured by BP managers that a full shutdown may not be necessary.
"Maybe investors are taking profit (after the BP statement)," Nunan said.
He said however that prices should remain volatile because of continued strong energy demand in the United States despite the slowing economy and current fuel price levels, with the worsening crisis in the Middle East also a key factor.
The deeper-than-expected fall in US crude and gasoline inventories should also support higher prices.
The US Department of Energy (DoE) announced in a weekly update Wednesday that gasoline stocks fell steeply by 3.2 million barrels to 207.7 million in the week to August 4.
That was more than three times the market's expected drop of 1.0 million barrels.
It was also the biggest fall in US petrol inventories since mid-April, reflecting robust demand as many North Americans take to the roads for summer vacations.
However, gasoline stocks still remain 0.8 percent higher than at the same stage of 2005, the DoE said.
Crude stocks fell 1.1 million barrels to 332.6 million barrels, compared with analysts' forecast for a decline of 1.0 million barrels.
"The US Department of Energy inventory figures were quite bullish," Nunan said, adding that Thursday's decline in oil prices were "a bit confusing to me because the market looks pretty strong."
Nunan said the Middle East remains a major concern for the market after Israel's security cabinet decided Wednesday to widen the ground war in Lebanon to strike at Hezbollah's arsenal of rockets.
Source AFP