Escalating tensions in Libya pushed oil to two-and-a-half-year highs and most Asian stock markets lower on Thursday as the country's leader refused to step aside.
Uprisings across North Africa and the Middle East have led to risk aversion among investors, causing them to buy up safe-haven assets such as gold and the Swiss franc, which hit a record high against the dollar.
With thousands fleeing Libya, opponents of leader Moamer Kadhafi seemed to be in control of swathes of the nation as he clung to his four-decade rule.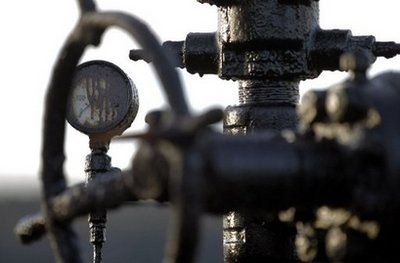 A pump pressure gauge is seen at an oil depot.
The 68-year-old despot vowed on Tuesday to purge opponents "house by house" and "inch by inch", drawing condemnation from US President Barack Obama.
With crude shipments from the country curtailed, prices jumped to highs not seen since late 2008, potentially fuelling inflation at a time when many nations, particularly in Asia, are trying to keep it under control.
In the afternoon, Brent North Sea crude -- which is more sensitive to Middle East unrest because of Europe's greater dependence on oil from the region -- climbed $1.41 cents to $112.66 per barrel, its highest since August 2008.
New York's main contract, light sweet crude, gained 93 cents to reach $98.93 after breaching the $100 mark late Wednesday.
Foreign oil workers were fleeing the north African country amid rumours that Kadhafi may sabotage pipelines, leading analysts to raise the prospect of an oil crisis.
Fears of the unrest spreading in the region were pushing prices higher, said Victor Shum, senior principal of Purvin and Gertz energy consultants in Singapore.
"The concerns go beyond Libya, which is a relatively small oil producer, to the bigger oil producers that may be affected if the revolt spread," he told AFP.
Morocco, Bahrain, Yemen and Iran are already witnessing uprisings, after similar movements led to the ouster of the presidents of Egypt and Tunisia. In Saudi Arabia King Abdullah decreed an increase in social benefits to try to head off a similar fate.
Investors looking for safe havens pushed gold to $1,414.00-$1,415.00 an ounce on opening in Hong Kong, up from Wednesday's close of $1,400.00-$1,401.00.
Stocks were mostly lower as dealers continued to cash out for a fourth day.
Tokyo fell 1.19 percent, or 126.39 points, to end at 10,452.71, while Sydney closed down 0.75 percent, or 36.60 points, at 4,809.30.
Mumbai was down 1.50 percent intraday, the exchange's third day of losses, after street demonstrations on Wednesday highlighted the problem of inflation.
Hong Kong was down 0.12 percent in the afternoon, extending its losing streak to four sessions.
However, Shanghai gained 0.13 percent, led by coal miners and oil firms.
The dollar firmed slightly to 0.9280 Swiss francs in afternoon trade, after sliding to 0.9273 earlier, but still below its previous record low of 0.9301 marked in December.
The euro rose to $1.3781 in Tokyo trade from 1.3746 in New York late Wednesday. The common currency fell to 113.02 yen from 113.37 yen.
The dollar fell to 82.01 yen from 82.46 yen.
"Risk-averse investors are snapping up the Swiss franc and the yen" due to the Middle Eastern violence, said Akihiro Tanaka, a dealer at Resona Bank.
"Market participants have yet to figure out its impact on the global economy and concerns linger over how the turmoil would spread in the region."
In other markets:
-- Seoul fell 0.60 percent, or 11.75 points, to 1,949.88.
-- Wellington fell 0.11 percent, or 3.71 points, to 3,368.35.
Fletcher Building rose 0.4 percent to NZ$8.58. Goldman Sachs broker Peter Sigley said the rise was "fully reflective of the amount of work that has to be done" in Christchurch after Tuesday's 6.3 magnitude earthquake devastated the city.
Nuplex fell 5.6 percent to NZ$3.39 after a disappointing earnings report but Auckland Airport rose 0.9 percent to NZ$2.26.
-- Manila fell 0.70 percent, or 26.20 points, to 3,730.84.
Philippine Long Distance Telephone was 1.8 percent off at 2,198 pesos and Semirara Mining fell 0.1 percent to 199.70. Aboitiz Power was up 1.5 percent at 27.75.
-- Taipei rose 0.15 percent, or 12.70 points, to 8,541.64.
Taiwan Fertiliser Co rose 3.98 percent to Tw$94.0, while Taiwan Semiconductor Manufacturing was 0.7 percent higher at Tw$70.5.