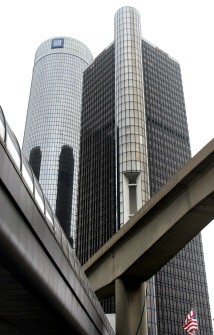 The General Motors world headquarters building is shown May 27, 2009 in Detroit, Michigan (AFP photo)
WASHINGTON, May 31, 2009 (AFP) - The once mighty US auto industry faces a day of reckoning on Monday with the looming bankruptcy of General Motors and an expected court ruling on the sale of Chrysler to a group led by Italy's Fiat.
The global economic crisis has hit the US industry hard, prompting massive intervention by President Barack Obama's administration to prevent total collapse and a new blow to the nation's economy, which is already in recession.
A government rescue plan for GM could put as much as 72.5 percent of the country's biggest automaker under state ownership.
With the hours counting down for GM, company bondholders with slightly more than 50 percent of GM's 27.2 billion dollars in bond debt voted Saturday in support of the restructuring plan, The New York Times reported.
Among the backers was a committee of large investors holding about 20 percent of GM's outstanding bonds, The Times said.
No official announcement of the vote tally has yet been made.
Under the plan, the bondholders would obtain the rights to buy an extra 15 percent of GM's stock at a low price. They would also control 25 percent of the new GM, after having supported the new company's creation in bankruptcy court.
Recalcitrant bondholders who opt for confrontation rather than cooperation "will get nothing or very little," an Obama administration official told reporters Thursday.
Government-backed restructuring in bankruptcy court for GM, once the world's largest automaker, appeared all but certain.
Monday marks a deadline imposed by the Obama administration for the company to submit a viable restructuring plan or file for bankruptcy.
Meanwhile, a US bankruptcy court judge in New York was widely expected to approve a deal between Chrysler and Fiat on Monday.
The third biggest US automaker has declared bankruptcy and is seeking a tie-up with Fiat in a plan presented as the only way to save the company from liquidation.
Developments at Chrysler could provide an example for restructuring at GM, which will similarly have to sell some of its brands and close many dealerships.
But the administration official said a 60- to 90-day timeframe was "better" for GM, contrasted with the fast-track process for Chrysler, which filed for bankruptcy protection on April 30.
"This is a much more complicated company than Chrysler, as a global company. It's three times the size," noted the official.
The United Auto Workers (UAW) union said Friday its members ratified a deal to allow GM to radically cut costs and its debt load, clearing the way for a quick exit from the expected bankruptcy filing.
GM also announced plans to retool an idled US plant to build small cars it had originally planned to import, and two more US assembly plants could potentially be saved.
The automaker, which normally shuts downs plants for two weeks during the summer, is planning longer-than-normal closures at a variety of facilities this summer, The Detroit Free Press reported.
Some factories will be shut down for as long as nine weeks, according to the newspaper report. This week, about eight out of its 15 assembly plants will be running.
The bankruptcy filing could also be sped up by a deal struck Saturday after marathon talks that saw Canadian parts maker Magna and its Russian backers taking over GM's Opel.
The deal for GM's European operations, brokered by the German government, amounted to a major development in the remaking of the global auto industry.
GM employs some 50,000 people throughout Europe and Magna plans to cut about a fifth.
German Chancellor Angela Merkel, whose government agreed to stump billions of euros (dollars) in loan guarantees and emergency loans to keep the ailing Opel afloat, acknowledged that talks over the future of GM Europe had sometimes been difficult.
Germany's Finance Minister Peer Steinbrueck had even denounced what he called "scandalous" US negotiating tactics.
Yet despite what she called "huge mismanagement" by GM executives, a telephone call to Obama helped seal the deal, Merkel said.
As for Chrysler, a new company could be born within days of approval for bankruptcy. The Treasury said it had transferred 6.9 billion dollars in public funds to New Carco, a newly created company to acquire Chrysler's "good assets."
If presiding judge Arthur Gonzalez rules against Chrysler, it faces a grim future, with a worst-case scenario being Fiat abandoning the tie-up and the US automaker going into liquidation, with massive job losses.
Legal appeals were expected if Gonzalez ruled in favor, meaning possible new delays. Fiat has said it might back out if the transaction is not completed by June 15.