JERUSALEM (AFP) – A woman was killed and more than 30 people wounded when a bomb ripped through a bus in Jerusalem, hours after militants vowed revenge for two deadly Israeli raids on Gaza.
Wednesday's bombing came several hours after two Grad rockets fired by Gaza militants hit the southern city of Beersheva.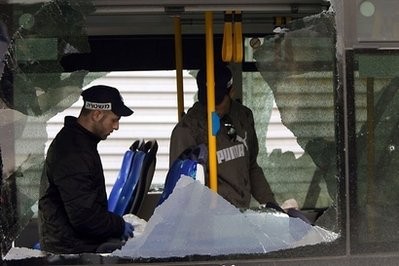 AFP - Israeli security forces inspect the scene of an explosion on a bus near Jerusalem's central bus station.
Prime Minister Benjamin Netanyahu warned amid escalating tensions on Israel's border with Gaza that anyone who attacks Israel would learn it has an "iron will."
"There are those who... are trying to test our will and our determination, and they will discover that this government and the army and the Israeli people have an iron will to defend the country," Netanyahu said before leaving for a 24-hour visit to Moscow.
Police said the bomb had been hidden in a bag at a bus stop near Jerusalem's central bus station at the western entrance to the Holy City.
"There was an explosion around 3:00 pm (1300 GMT) near a bus stop where two buses had stopped to pick up passengers," said police chief Aharon Franco.
Several hours later, a 59-year-old woman critically wounded in the attack died of her injuries, medical officials at the Hadassa hospital in Ein Kerem said.
"It was a bomb that was basically homemade, it was attached to a pole, it wasn't a suicide bomber but it was quite lethal as you see, an Israeli woman killed, 30 wounded, some of them quite seriously," Israeli ambassador to the United States Michael Oren told MSNBC.
The attack drew a barrage of international condemnation, led by US President Barack Obama.
"I condemn in the strongest possible terms the bombing in Jerusalem today, as well as the rockets and mortars fired from Gaza in recent days," he said.
British Foreign Secretary William Hague called it a "callous and disgusting act of terrorism," while the Russian foreign ministry spoke of a "barbaric act of terror."
The foreign ministry in Jordan, Israel's neighbour and peace partner, warned against "any military escalation that would have dangerous repercussions."
Israel's envoy to the United Nations, Meron Reuben called for a tougher UN stand on the bombing after Secretary General Ban Ki-moon condemned the attack as "unacceptable."
"In view of these troubling developments, Israel expects the Security Council, the secretary general, and the international community to condemn all of these attacks in very clear terms," Reuben said in a letter to Ban.
Police and medics said up to 35 people were wounded. Three were in serious condition while five sustained moderate injuries, many caused by shrapnel from the bomb which weighed between 1-2 kilos (2-4 pounds).
The explosion, which shook buildings hundreds of metres (yards) away, hit the number 74 bus as it picked up passengers between the central bus station and the ICC conference centre.
At least five people could be seen lying on the floor, covered in blood, an AFP correspondent said. Emergency vehicles rushed to the scene -- a transit hub through which well over a thousand buses pass every day.
Hours after the attack, hundreds of black-clad ultra-Orthodox Jews lined the road outside the conference centre, shouting: "Death to Arabs!" an AFP correspondent said.
The violence forced Netanyahu to delay by several hours his departure for Moscow in order to hold talks with Chief of Staff Benny Gantz, Defence Minister Ehud Barak and Home Front Defence Minister Matan Vilnai, his office said.
The talks were also likely to have focused on a response to an upsurge in rocket fire from Gaza, where militants fired 16 projectiles into Israel -- two of them Grad rockets which hit the southern city of Beersheva.
The Grad attacks were claimed by the armed wing of Islamic Jihad which vowed to continue targeting cities deep inside Israel in revenge for the killing of eight Gazans a day earlier, two of them minors.
However, Gaza's Hamas rulers later pledged to "to restore calm" in the coastal enclave.
"We confirm that our stance in the government is set on protecting the stability," Hamas spokesman Taher al-Nunu said in a statement.
"We will work to restore the field conditions that were prevalent over the last few weeks."
Israel's Barak denounced both the rocket fire and the Jerusalem attack as unacceptable, warning that Hamas would pay the price for the unrest in Gaza.
"We will not tolerate attacks on Israeli citizens, not in the southern communities and not in Jerusalem," his office quoted him as saying.
No group has yet claimed responsibility for the Jerusalem attack, which was condemned by Palestinian president Mahmud Abbas and Salam Fayyad, with the premier issuing a statement condemning "in the strongest terms, this terrorist attack, whoever was behind it."
Israeli jets staged three sorties overnight in Gaza but there were no casualties, according to Palestinian sources. An Israeli defence spokeswoman said two were aimed at tunnels south of the Gaza Strip and one at a "terrorist target."