Chamlong Srimuang, a former mentor of the premier and now one of his severest critics, rejected Thaksin's vow Friday to implement constitutional changes and hold fresh elections in around one year, and insisted he quit.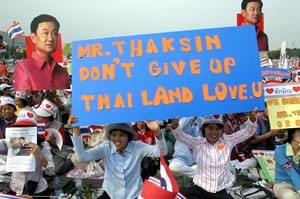 Supporters of Thai Prime Minister Thaksin Shinawatra raise banners and his portriats at a mass rally in Bangkok on March 3 (AFP Photo)
"There is only one solution (to end the political crisis). That is he should resign," Chamlong, one of key members of the People's Alliance for Democracy, which is made up of a variety of anti-Thaksin groups, told local radio.
Chamlong's allies from the Santi Asoke -- a rebel Buddhist sect that has been banned by religious authorities -- were the first to arrive at last Sunday's anti-government rally in Bangkok.
After a month of street protests demanding his resignation, Thaksin held his own rally late Friday, drawing 150,000 supporters -- one of the biggest crowds seen in Bangkok since the pro-democracy rallies of the early 1990s -- at Sanam Luang field near the royal palace.
The premier, who faces allegations of corruption and abuse of power, told his roaring supporters that next month's snap polls were a referendum on his rule, and vowed constitutional changes and new elections in about one year.
Premier Thaksin abruptly dissolved parliament a week ago and called a general election on April 2, three years ahead of schedule, in a bid to defuse the crisis.
But the country's main opposition Democrat Party and two other parties said they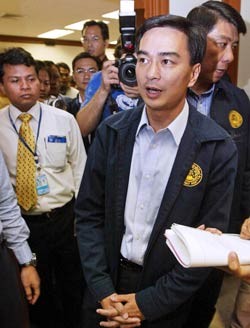 Thailand's main opposition leader of the Democrat party Abhisit Vejjajiva talks to media (AFP Photo)
would boycott the polls, which analysts said would threaten the legitimacy of the poll and potentially throw the kingdom deeper into political turmoil.
Mr.Thaksin again called on the opposition parties Friday to join the April 2 elections and said he would even accept a postponement of the election if they needed more time to find candidates.
"For the sake of our country, please send candidates to this election. If the Election Commission considers postponing the election schedule, I will not object. I want to see that people have a choice, because now they have no choice," Thaksin said.
Mr. Thaksin won his second term in office last year with an absolute majority in parliament, an historic victory that made him appear invincible.
But simmering discontent bubbled over at his family's 1.9 billion dollar tax-free sale in January of their shares in Shin Corp, the telecoms giant Thaksin founded before entering politics.

That sale also touched a raw nerve by delivering a major telecommunications network into foreign hands -- the Singapore government linked investment fund, Temasek.
Anger at the deal, mostly among Bangkok's urban middle classes, has turned into weekly street protests since February 4, drawing tens of thousands of people demanding his resignation.
Source: AFP