PARIS, Aug 15, 2011 (AFP) - Britain's finance minister George Osborne called Monday on eurozone countries to undertake greater fiscal integration to restore economic confidence.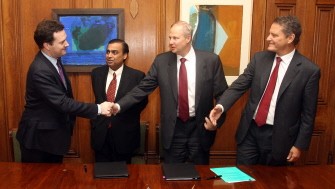 AFP - (FILES) In this photograph taken on February 21, 2011, Britain's finance minister George Osborne (L) shakes hands with BP Chief Executive Bob Dudley (2R) as chairman and managing director of Reliance Industries Mukesh Ambani (2L) and BP Chairman Carl-Henric Svanberg (R) look on during a signing ceremony at 11 Downing Street in central London
The eurozone "needs to demonstrate commitment to greater fiscal integration and governance arrangements that avoid moral hazard and entrench fiscal responsibility," Osborne said in a statement co-authored by Deputy Prime Minister Tharman Shanmugaratnam of Singapore and published in the Financial Times.
The statement by Britain's Chancellor of the Exchequer came after a fierce sell-off on global stock markets since the beginning of the month, partially due to concerns over the eurozone debt crisis spreading to core countries.
It also came one day ahead of a meeting of German Chancellor Angela Merkel and French President Nicolas Sarkozy to discuss strengthening eurozone economic governance.
While Britain is not part of the eurozone, Osborne warned last week that "the break-up of the euro would be economically disastrous, including for Britain."
With Italy and Spain now under threat, Osborne urged they consider the issuing of joint "eurobonds" that would lower risk to investors as they would be collectively responsible for repayment.
"Solutions such as euro bonds or other forms of guarantees now require serious consideration," Osborne told British lawmakers.
"And they must be matched by much more effective economic governance in the eurozone to ensure fiscal responsibility is hard wired into the system," he added.