HOLLYWOOD (AFP) – From Penelope Cruz's stunning red to Gwyneth Paltrow in subdued silver, all eyes were on the fashion choices as Hollywood's A-listers hit the Oscars red carpet.
And as for the famously quirky British actress Helena Bonham Carter -- shock! -- she wore a surprisingly normal-looking black dress.
"I thought it would be nice to celebrate film not fashion... I've got a bit of a complex about my bum so thought I'd make it even bigger," she joked, shortly before the 83rd Academy Awards show got under way.
Bonham Carter, who lost out later in the best supporting actress category for her role in "The King's Speech," is known for her unpredictable dress sense and had forecast whatever she wore could be "catastrophic."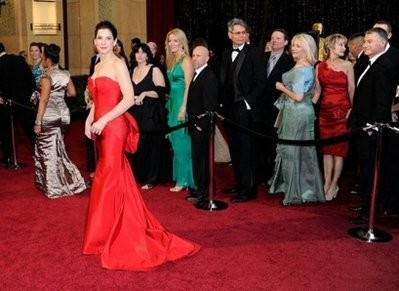 AFP - From Sandra Bullock's (pictured) stunning red to Gwyneth Paltrow in subdued silver, all eyes were on the fashion choices as Hollywood's A-listers hit the Oscars red carpet
At the Golden Globes she wore one red shoe and one green, but on Sunday she kept her vow to wear same-colored footwear, below a Gothic-looking black dress described as "something I got together with costume designer Colleen Atwood."
Apart from a large bustle, the striking black silk taffeta gown with a velvet bodice and Elizabethan style cutaway sleeves was supremely conservative compared to outfits she has stunned fashion-watchers with in the past.
Natalie Portman, who won the best actress prize for her role as a paranoid ballerina in "Black Swan," was in plum colored Rodarte with Tiffany jewelry, but insisted she felt at home whatever she wears.
"Most girls get so excited to get dressed up," said the heavily pregnant star, adding that she could equally be happy "at home in sweats with, like, messy hair and no makeup. The biggest luxury of all."
Complete entertainment coverageCruz, arriving on the arm of husband and best actor nominee Javier Bardem, looked typically ravishing in a red number, the same color as last year's best actress Oscar winner Sandra Bullock, in a structured Vera Wang gown.
"I chose it because it's always so cheerful and my son recognizes the color red," said Bullock, whose pale make up exaggerated red lips and complemented the gown perfectly.
Jennifer Hudson looked slender and glamorous in her halter necked Versace gown accessorized with Neil Lane jewelry and Jimmy Choo bag.
Her train with a diamond pleated off-centre bustle was so long that she needed three people to ensure its wellbeing as she made her way along the red caret.
Jennifer Lawrence, a losing best actress nominee for her role in Winter's Bone, chose a simple red dress with spaghetti straps and a low back; her long blond hair loosely pinned.
Pastel tones, reflecting the most recent collections, were also a popular choice.
Kate Blanchett chose a pale lilac gown in pleated chiffon with a collar of chartreuse and lilac beading.
Her simple, sleek blond hair was a simple antidote to the complexity of the dress.
In Christian Dior haute couture, Nicole Kidman continued the pastel trend with a silk grosgrain lavender gown, richly embroidered with silver thread as well as a magnificent diamond choker, which reached down her back.
In sharp contrast to the dress, she wore her hair in a simple ponytail with minimal, very natural make-up.
However, the most striking trend at this year's Academy Awards was the choice of silver, gold and platinum seen on so many stars.
Paltrow resembled the Oscar statue itself in a shimmering gold sheath by Calvin Klein and vertiginous heels.
Hilary Swank looked stunning in a silver strapless gown with ostrich feathered trim by Jean Paul Gaultier and Michelle Williams chose a form fitting heavy silver beaded gown by Chanel and very uncomfortable looking shoes.
Her white-blonde pixi-cut hair and dramatic dark eye make-up completed a winning combination.
Annette Bening was elegant in a graphite and silver sequined dress with huge emerald earrings and Celine Dion also chose a textured graphite colored gown - this one with long sleeves.
Helen Mirren, elegant as always, wore a dark grey silver gown with a jeweled buckle at the back.
Of the men, Colin Firth, unsurprising again chose Tom Ford, and Russell Brand, escorting his mother to the Awards this year, wore a petrol blue skinny cut suit by Marc Jacobs with a black shirt, straight black tie and wet-look hair.
Keith Urban chose the simple chic of Prada.