HOLLYWOOD, Feb 22, 2009 (AFP) - Late Australian actor Heath Ledger won a posthumous Oscar and "Slumdog Millionaire" scooped four honors Sunday as the 81st Academy Awards got off to an electrifying and poignant start in Hollywood.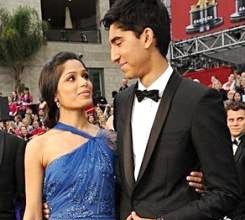 Slumdog Millionaire lead actor Dev Patel (R) and supporting actress Freida Pinto arrive at the 81st Academy Awards at the Kodak Theater in Hollywood, California (Photo: AFP)
Ledger, who died last year of an accidental drug overdose at the age of 28, won the best supporting actor for his portrayal of Batman's arch-enemy the Joker in last year's summer blockbuster "The Dark Knight."
It was the only second time in Oscars history that an actor had received a posthumous award, and the star-studded audience at the Kodak Theater listened in hushed silence as Ledger's family accepted the award on the actor's behalf.
"Heath, we both knew what you had created in the Joker was extraordinarily special, and had even talked about being here on this very day," Ledger's sister Kate said.
"We really wish you were, but we proudly accept this award on behalf of your beautiful daughter Matilda. Thank you," she added.
In other early awards, Spanish star Penelope Cruz won the best supporting actress prize for her part in the steamy Woody Allen comedy "Vicky Cristina Barcelona" while best picture favorite "Slumdog" picked up awards for best adapted screenplay, cinematography, sound mixing and editing.
"Has anybody ever fainted here? Because I might be the first one," an overwhelmed Cruz said as she accepted her award.
Meanwhile Disney-Pixar's hit film "Wall-E" won the best animated movie award while gay rights biopic "Milk" earned a best original screenplay statuette for its writer Dustin Lance Black.
Black used his acceptance speech to make an impassioned plea for equal rights for gay Americans.
Addressing "gay and lesbian kids" watching the ceremony, Black praised the protagonist of the film, Harvey Milk, the first openly gay man to be elected to public office in California.
"No matter what everyone tells you, God does love you ... very soon, I promise you, you will have equal rights federally across this great nation of ours," he said.
Period romance "The Curious Case of Benjamin Button," which began the night with 13 nominations, won three Oscars in the technical categories of art direction, makeup and visual effects.
The new-look awards extravaganza had got off to a flying start with Australian actor host Hugh Jackman wasting no time in launching into a medley of musical numbers that referenced this year's nominees.
Earlier, the stars of "Slumdog Millionaire" delighted onlookers on the red carpet with British director Danny Boyle accompanying several of the child actors who were flown to Hollywood for the ceremony from India.
"It's unbelievable. I never thought I'd be at the Oscars," said a beaming Ayush Mahesh Khedekar, one of the "Slumdog" child actors.
Khedekar and his young co-stars could later be seen crowding around to get autographs from British actor Daniel Craig, better known as British superspy 007 in the James Bond action films.
The build-up to this year's ceremony was dominated by the Bollywood-inspired "Slumdog," which has swept other awards and was considered the overwhelming favorite for the best picture statuette.
Pundits say "Slumdog" has delighted audiences with its rags-to-riches plot about a Mumbai tea boy who rises out from poverty and enters a television quiz show to win millions and be reunited with the love of his life.
Other rivals in the best picture category are "Benjamin Button," political drama "Frost/Nixon," biopic "Milk" and Holocaust drama "The Reader."
With "Slumdog" and Boyle heavily favored to win best picture and director, pundits are looking to the acting honors to provide suspense.
Sean Penn, who plays a trailblazing gay politician in "Milk," and Kate Winslet, who plays a Nazi death camp guard in "The Reader" are the front-runners in the best actor and actress categories.
However, Penn faces stiff competition from Mickey Rourke, who won last month's Golden Globes for playing a washed up prizefighter in "The Wrestler."
Meanwhile, Winslet's hopes of a first Academy Award after missing out on five previous occasions are threatened by two-time Oscar-winner Meryl Streep ("Doubt"), with Melissa Leo ("Frozen River") tipped as a dark horse.