A Pakistani court on Thursday delayed until next month a hearing into the diplomatic immunity of an American who killed two local men, a case that has pushed ties between Islamabad and Washington toward a breaking point.
The postponement to March 14 will likely exasperate the Obama administration, which has urged Pakistan to free consular employee Raymond Davis and avoid setting a precedent for trials of U.S. officials abroad.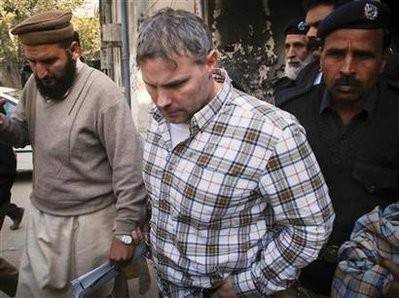 U.S. consulate employee Raymond Davis is escorted by police and officials out of court after facing a judge in Lahore in this January 28, 2011 file photo
The High Court in the city of Lahore granted a government request to postpone the hearing on whether Davis, a former special forces soldier who shot and killed two men on January 27, is protected by diplomatic immunity.
Davis, who is assigned to the U.S. consulate in Lahore, has said he was acting in self-defense during an armed robbery in the city.
White House spokesman Jay Carney said the United States remained focused on ensuring Pakistani authorities respected Davis's diplomatic immunity and securing his release.
Pakistan is crucial to the success of the U.S. strategy in neighboring Afghanistan, where lawless western border regions are safe havens for Islamist militants targeting U.S. troops.
Yet the government of President Asif Ali Zardari, battling its own insurgency and struggling to hold together a fragile political coalition, is reluctant to ignite popular fury in a case that has galvanized anti-American sentiment.
The U.S. military says it is deeply concerned about the overall situation in Pakistan. The chairman of the Joint Chiefs of Staff, Admiral Mike Mullen, told a Senate hearing on Thursday that "it looks worse than it has in a long time."
"The vector is going in the wrong direction overall for the country," he said.
Mullen said the Davis case had also exacerbated the United States' deep unpopularity in the country, despite the U.S. military playing a major role in aiding victims of last year's devastating floods in Pakistan.
"You have an incident like the one we're going through right now, and our popularity is back down in very small numbers," he said.
PUBLIC OPINION
Pakistani officials, in asking for a delay, may be trying to buy time so tensions can ebb and officials can work behind the scenes to broker a way out of their dilemma.
"Hang Raymond Davis," read a banner at the court compound.
The delay may embolden U.S. politicians threatening to reconsider billions of dollars in U.S. aid that Pakistan needs to equip its military, rebuild after the floods and tackle rampant poverty.
Many U.S. officials believe generous aid has not brought them Pakistan's full cooperation in cracking down on Taliban and al Qaeda militants hiding out along the Afghan border.
Islamabad may ask U.S. officials to consider approaching relatives of the men Davis killed "and try and sort out a deal with them," said political analyst Ejaz Haider.
There is mounting speculation the United States might back payment of compensation, or blood money, as laid out under Pakistani law, but the United States might be loathe to support payment in what it sees as a case of self-defense.
Waseem Shamshad, brother of one of the slain men, ruled out the possibility of striking any deal with the U.S. government or Davis. "We stand by our position that there is no possibility of patching it up with them," he told Reuters.
EXPLOSIVE SENTIMENT OVER DAVIS CASE
Pakistan cannot ignore potentially explosive emotions over the shooting, which also resulted in the death of a third man run over by a U.S. vehicle that came to Davis' rescue.
One of the slain men's widows committed suicide, further stoking passions in a nation already indignant about escalating strikes by U.S. unmanned drones in the lawless northwest.
Pakistan's al Qaeda-linked Taliban has warned the government it will punish any move to free Davis, adding to worries about a public backlash as popular demonstrations bring political changes in Egypt and other parts of the Muslim world.
While U.S. officials have said the Justice Department will conduct a criminal investigation of its own, it is unclear whether such an inquiry would lead to any trial.
Adding to the confusion is the murkiness over Davis' role at the U.S. consulate. While embassy officials have said Davis was part of the consulate's administrative and technical staff, many locals have accused Davis of being a spy.