Pakistan's political future hung in the balance Sunday with Benazir Bhutto's party deciding whether to pull out of planned elections amid an acrimonious dispute over how she was killed.

Her husband and top party officials were also expected to name a successor to Bhutto as head of the country's largest opposition party, with some tipping her 19-year-old student son as heir-apparent.

Violent protests and looting which have left at least 38 people dead and dozens injured have rocked the nation of 160 million since the former premier was assassinated at a campaign rally Thursday.

President Pervez Musharraf has ordered security chiefs to take firm action against rioters, and the interior ministry estimated that damage ran into tens of millions of dollars.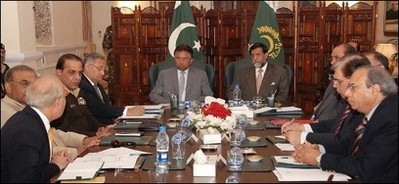 Pakistani President Pervez Musharraf (C) and caretaker Prime Minister Muhammedmian (C-R) co-chair a high level meeting on the law and order situation in the country, in Rawalpindi, on December 29. Musharraf has ordered security chiefs to take firm action against rioters, and the interior ministry estimated that damage ran into tens of millions of dollars. (AFP/PID)
Any decision by Bhutto's Pakistan People's Party (PPP) to pull out would render the January 8 parliamentary vote meaningless, with her main rival Nawaz Sharif having earlier announced his own boycott.

Pakistan's electoral commission indicated Saturday it may delay the polls, acknowledging the circumstances of her death and ensuing unrest had "adversely affected" conditions.

The PPP was to meet around 3:00pm (1000 GMT) in her home town of Naudero in the south to decide what to do next, with her husband Asif Zardari expected to read out instructions she left about the party's future.

"It will be almost impossible for the party to go against her wishes," said political analyst and columnist Shafqat Mahmood.

Party officials said her son Bilawal Bhutto was favourite to take over what has become a political dynasty, with an advisory council running affairs until he finishes his studies at Britain's Oxford University.

The meeting "will determine whether the elections will be held on January 8 or not," Mahmood told AFP.

"It will also determine what they think about the investigation" into her death. "Their verdict will be the verdict that the world will accept."

The national election commission is to meet Monday to discuss the crisis in the wake of the violence.

It said some commission offices had been destroyed in the violence that has swept Pakistan since Bhutto's death, with voter lists "reduced to ashes," one commission official killed and other preparations thrown into chaos.

The anger has been fuelled by searing controversy over the circumstances of the slaying, with the government version -- that she smashed her head on the level of a car sunroof during a suicide attack -- dismissed by her supporters as "nonsense."

The interior ministry insists she had no gunshot or shrapnel wounds and has offered to exhume her body for more tests. It also accused Al-Qaeda over the killing, saying intelligence services had intercepted a call from the group's top leader in Pakistan.

"This is ridiculous, dangerous nonsense because it is a cover-up of what actually happened," Bhutto's spokeswoman Sherry Rehman, who was involved in washing her body for burial, retorted.

Party officials say she was shot before the suicide attacker blew himself up, matching early accounts of the carnage that left around 20 people dead at the rally in the northern city of Rawalpindi.

"There was a bullet wound I saw that went in from the back of her head and came out the other side," Rehman told AFP.

Bhutto was a strong critic of Al-Qaeda-linked militants blamed for scores of bombings in Pakistan, and had received death threats.

However, she had also accused elements in the intelligence services of being involved in a suicide attack on her rally in October that left 139 dead, and which she only narrowly escaped.

The scale of the violence has effectively paralysed many of Pakistan's main cities.

Demonstrators have clashed repeatedly with police and torched hundreds of banks, shops, offices, railway stations, trains and vehicles in cities across the country.

The White House, which regards Pakistan as on the front line of the fight against Islamic extremism, appeared to pull back from its earlier urge for the elections to go ahead on January 8 as planned.

"The elections should be free and fair," White House spokesman Tony Fratto said, urging a thorough probe into Bhutto's death. "But as for the timing, this will be something that the Pakistani authorities will have to determine."