Pakistan and India sought to improve their strained relationship Thursday with high-level talks aimed at rebuilding trust that was fractured by the deadly terrorist attacks that killed 166 people in the Indian city of Mumbai nearly two years ago.
But analysts expected little concrete progress from the visit by Indian External Affairs Minister S.M. Krishna, who met Thursday with Pakistani Foreign Minister Shah Mahmood Qureshi. Krishna is the most senior official to come to Pakistan since the November 2008 attacks, which India blames on Pakistan-based militants.
India has insisted that no real improvement in the relationship can come until Pakistan demonstrates its determination in cracking down on the militant group Lashkar-e-Taiba allegedly involved in the attacks.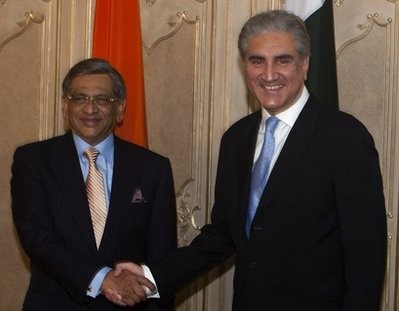 Indian External Affairs Minister S.M. Krishna, right, shakes hands with his Pakistani counterpart Shah Mahmood Qureshi prior to formal talks at the Foreign Ministry in Islamabad, Pakistan on Thursday, July 15, 2010
Pakistan helped establish Lashkar-e-Taiba around 20 years ago to pressure India over the disputed territory of Kashmir. The government banned the group in 2002 following U.S. pressure, but many analysts believe it still maintains links.
Pakistan has bristled at criticism it is not doing enough, saying it needs more evidence from Indian investigators. The government has also pushed India to restart comprehensive talks on a range of issues, including Kashmir, that were suspended in the wake of the Mumbai attacks.
The atmosphere could become even more heated with claims published Wednesday by Indian Home Secretary G.K. Pillai that Pakistan's most powerful intelligence agency orchestrated the attacks.
Pillai told the Indian Express newspaper that new information about the role of the Inter-Services Intelligence agency had emerged from the interrogation of David Coleman Headley, an American who pleaded guilty in the U.S. in March to being in on the planning of the attacks. He was subsequently questioned by Indian investigators.
Pakistani authorities did not immediately respond to the accusations, but the agency has previously denied any involvement in the Mumbai attacks.
Krishna, the external affairs minister, said upon his arrival in Islamabad on Wednesday that he would continue to push Pakistan "on our core concern of terrorism." He cited conversations India's home minister had with Pakistani officials last month about Headley's interrogation.