An influential Pakistani Islamist party accused the United States on Tuesday of riding roughshod in the case of a U.S. consular employee held over the killing of two Pakistanis and said it would hold protests if he is freed.
Raymond Davis was arrested after shooting two Pakistanis in what he called self defense during an armed robbery attempt and what Lahore's police chief called "clear-cut murder".
The United States is piling pressure on Pakistan to release Davis, saying his arrest was a violation of international conventions because he has diplomatic immunity.
Pakistan says the matter will be decided by its courts.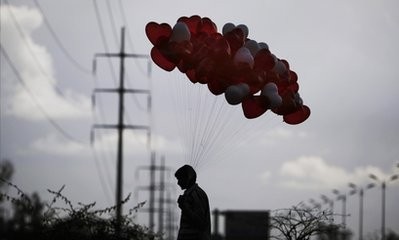 A Pakistani selling balloons on Valentine's day crosses a street looking for customers in Islamabad, Pakistan, Monday, Feb. 14, 2011
The issue has become a lightning rod for anti-American sentiment in Pakistan, which the United States counts as an important, if unreliable, ally in its war against militants that launch attacks against its soldiers in Afghanistan.
Jamaat-e-Islami, a religious and political party capable of organizing large protests, accused the United States of exerting "unprincipled and unlawful" pressure on Pakistan.
"Why is America hell bent on trampling on Pakistani law and its judicial system? We will forcefully protest if he is released without a court order," Jamaat-e-Islami deputy chief Liaquat Baluch told Reuters.
Jamaat-e-Islami and other religious parties don't win many votes in elections. But the government can't afford to ignore them.
Some members of the Pakistani media, which has in the past accused U.S. aid workers of being spies, have also called for Davis to be put on trial in Pakistan.
Supporters of the men Davis shot dead in the city of Lahore on January 27 have already held protests and burned U.S. flags.
Davis has been detained on remand since the incident.
On Thursday, the United States is expected to present a petition to a Lahore court to certify that Davis has diplomatic immunity and should be released.
Cash-strapped Pakistan is one of the largest non-NATO recipients of American military aid. But it is constantly battling the public perception that it is a U.S. puppet so has to tread cautiously.
In addition to the two men shot and killed by Davis, a third man was killed when a vehicle from the U.S. consulate, apparently en route to rescue Davis, struck and killed a passer-by