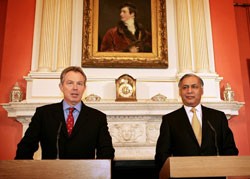 British Prime Minister Tony Blair (L) and Pakistan's Prime Minister Shaukat Aziz address a joint press conference at 10 Downing Street in London, 06 March 2006 (AFP Photo)
"Pakistan's view is that there should not be any military intervention and we would certainly not be party to any such action," Aziz told BBC television late Monday during a visit to London.
The BBC had asked him about Washington's refusal to rule out military action against Iran's nuclear program which US and European diplomats fear may be used for nuclear weapons. Iran insists it is peaceful.
He said Pakistan has always supported a diplomatic solution to the crisis over Iran's uranium enrichment program, especially through the forum of the International Atomic Energy Agency (IAEA) in Vienna.
"We think Iran should not proliferate. We're against production of any nuclear weapons in the region. We think Iran does have the right to use nuclear energy for peaceful purposes under IAEA safeguards and guidelines," he said.
"We also feel negotiation is the way to go and we oppose any armed conflict in the region to settle the matter," he said.
"We remain cautiously optimistic that they (negotiations) will produce results," he said.
Unlike Iran, Pakistan was entitled to build a nuclear bomb once India set off such a weapon in 1974, he said.
"Once this happened ... we had to create a minimal credible deterrence to ensure peace in south Asia. In Iran's case, we believe this is not necessary," he said.
Aziz was in London for a two-day "Asia 2015: Promoting Growth, Ending Poverty" meeting, which gathered some 150 delegates from the worlds of politics, business and civil society.
Source: AFP