Pakistan's election commission Wednesday rejected allegations from leading opposition parties that January polls will be struck by vote rigging, insisting that the vote will be free and fair.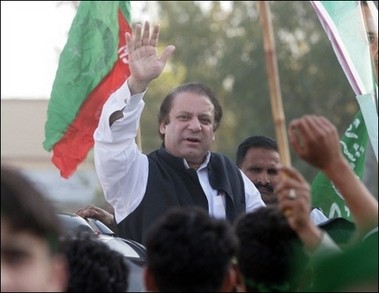 Former Pakistani prime minister Nawaz Sharif in the northern town of Abbottabad (Photo: AFP)
Former prime minister Benazir Bhutto has said that her party is contesting the January 8 polls "under protest" despite fears that they will be massively rigged by the government.

She has objected about the setting up of "ghost" or improvised polling stations, bulk transfers of officials and a plan to steal thousands of ballot papers ahead of the election for the pro-government candidates.

Another former prime minister Nawaz Sharif, who returned from exile from Saudi Arabia on November 25, has been demanding other opposition groups boycott the elections arguing that the vote will not be fair and transparent.

Both leaders met in Islamabad on Monday and have tasked their parties to compile a list of demands the government must meet to stop them boycotting the poll.

But voting watchdogs insisted that the opposition's fears are unfounded.

"The Election Commission is a constitutional body and it is fully independent to hold free, fair and transparent polls," the commission's secretary Kanwar Dilshad told AFP.

"The entire election exercise is absolutely free, fair and transparent," he said.

"More than 95 percent of polling stations will be in schools or government buildings, but in some areas where there is no proper building, polling stations are established in tents or some other premises," Dilshad said.

He said such a move was not new and that improvised polling stations would be set up in consultation with the contesting candidates.

Addressing allegations that thousands of ballot papers would be stolen, Dilshad said they would be handed over to officials by January 5 and "there is no question of somebody getting hold of them."

President Pervez Musharraf last week pledged to lift a month-old state of emergency by December 16, ahead of the January 8 vote.

A committee set up by the parties of the two ex-premiers to draft the "charter of demands" began its maiden session on Tuesday and was to meet again on Wednesday afternoon.

"Yesterday we had a preliminary round in which we agreed that the entire electoral process was based on rigging and fraud," Sharif's spokesman Ahsan Iqbal told AFP.

"The current system was not leading us towards free and transparent elections," he added.

Iqbal warned that if elections became controversial then the "political crisis will be much deeper and create more instability."

He said that it was also agreed that instead of Musharraf "dictating" his terms of elections, political forces should set the rules for the conduct of impartial and fair elections.

Under massive international pressure following his declaration of emergency rule, Musharraf has delivered significant concessions to the opposition in recent weeks.

He quit as army chief last week and was sworn in for a second term as a civilian president, ending eight years of military rule after he seized power in a bloodless coup in 1999.