Pakistan Railways on Thursday lowered the death toll from a massive train derailment to 35, even after two people died of their wounds overnight.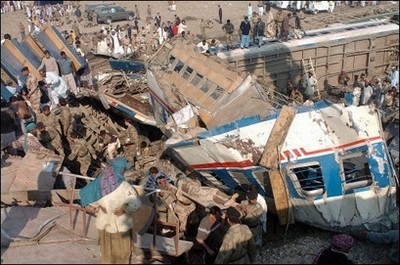 Pakistani soldiers carry the body of a train passenger killed in an accident in the southern town of Mehrabpur (Photo: AFP)
The state-run company had previously said at least 45 people were killed in Wednesday's crash, when an express train came shooting off the rails and tumbled down an embankment.

"The final death toll is 35," Pakistan Railways operations director Junaid Qureshi told AFP. He said the earlier higher toll had been an estimate.

He said around 250 people had been injured, most with minor wounds, and that 35 people were still in hospital -- 10 in critical condition.

The Karachi Express was en route to Lahore, filled with hundreds of people getting ready to celebrate the Muslim holiday of Eid al-Adha, when the train derailed outside Mehrabpur, 200 kilometers (125 miles) northeast of Karachi.

Hundreds of people have been killed in recent years on Pakistan's ageing railway system.