The blast took place before the swearing in of the new Israeli parliament and prompted a pledge by prime minister designate Ehud Olmert that its perpetrators would not go unpunished.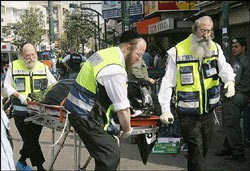 Israeli rescue workers evacuate a victim's body from the scene where a Palestinian suicide bomber blew himself up in Tel Aviv (AFP Photo)
The bomb went off next to a fast food stand at lunchtime in the southern Neveh Sha'anan district, close to the site of Tel Aviv's old bus station. The area has been the scene of several previous attacks, including one in January.
The blast -- the deadliest since a suicide bombing in August 2004 -- was claimed by the Palestinian militant group Islamic Jihad, which has been behind all of the most recent bomb attacks in Israel.
Moderate Palestinian Authority president Mahmud Abbas condemned what he called an act of terrorism but the radical Islamist group Hamas, which recently formed a new government, laid the blame at Israel's door for its "aggression".
The lack of condemnation from Hamas drew criticism not only from Washington, which already boycotts its administration, but also from UN chief Kofi Annan.
"(Annan) calls on the Palestinian Authority to take a clear public stand against such unjustifiable acts of terrorism, noting that president Abbas has done so and regretting that the new government has not," his spokesman Stephane Dujarric said.
It followed a spate of Israeli strikes on the Gaza Strip, carried out in response to rocket attacks, which left 18 Palestinians dead.
Israelis late Monday fired several missiles on a metal factory in the Zeitoun neighbourhood in the west of the Gaza Strip, a security source and witnesses said, adding that there were no known victims but that there was considerable material damage.
Jihad later distributed a video of the 21-year-old bomber, Samir Hamad, reading from the Koran and wearing the group's black headband.
Israel had been on high alert for the Passover holiday after militant groups threatened to avenge a series of deadly Israeli strikes on the Gaza Strip.