Rival Palestinian movements Fatah and Hamas are holding reconciliation talks brokered by Egypt on Thursday aimed at paving the way for the creation of a unity government.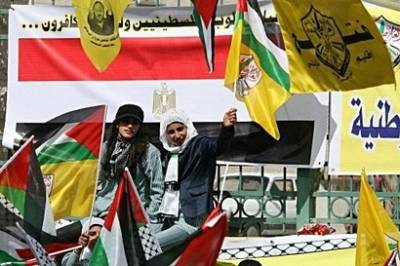 Palestinian supporters of the Fatah party wave the Palestinian and the Fatah flags during a rally in Nablus as unity talks take place in Cairo. (AFP Photo)
On the eve of the talks, the feuding factions agreed to resolve the fate of prisoners detained by both sides, a key stumbling block in reconciliation efforts, and stop a war of words being played out in the media.
The stakes are high as billions of dollars of funds to rebuild the Gaza Strip after Israel's war on the territory may be available if terms set by international donors can be met before an aid meeting next week in Egypt.
Senior officials from Fatah, the secular movement headed by Palestinian president Mahmud Abbas, and Hamas, the Islamist group that rules the Gaza Strip, agreed on confidence-building measures at a meeting on Wednesday.
"A certain number of detainees will be freed right at the beginning of the dialogue," said a joint statement. "Other detainees will be freed successively so that this issue will be totally closed before the end of the national Palestinian dialogue."
Senior Hamas official Mahmud Zahar said 80 Hamas members held in the West Bank, which is controlled by the moderate Fatah movement, have been released and that 300 are still being held.
Hamas has also lifted the house arrest of a number of Fatah members in the Gaza Strip.
The two factions have long been rivals but their feuding came to a head in June 2007 when Hamas seized control of Gaza, routing forces loyal to Abbas after days of deadly street battles.
Egypt had originally called for Palestinian reconciliation talks in November, but Hamas withdrew at the last minute, complaining that Fatah was continuing to arrest Hamas members in the West Bank.
The reconciliation process was relaunched by Egypt after Israel's 22-day war on Gaza that ended last month with more than 1,300 Palestinians killed and buildings and infrastructure destroyed.
"The climate is positive and promising," Hamas political bureau member Ezzat Resheq told journalists after Wednesday's talks. "We hope for positive results."
Azzam al-Ahmad, leader of the Fatah bloc in the Palestinian parliament, spoke of a "real desire on both sides to settle these questions... to achieve reconciliation, a urgent necessity above all because the peace process is not progressing and nor are efforts towards a truce."
Hamas trouncd Fatah in the 2006 Palestinian general election but its government was boycotted by Israel and the West, and attempts at forging a national unity government failed.
Thursday's conference, which will also bring in other Palestinian factions, stems from Egyptian proposals for a lasting ceasefire following Israel's onslaught on Gaza from December 27 to January 18.
Cross-border violence has continued since then as Egypt has tried in vain to mediate a truce between Hamas and Israel, which like the West boycotts the Islamist group as terrorist outfit.
On a visit to Cairo on the eve of the talks, British Foreign Secretary David Miliband called for the Palestinians to form a new government of "technocrats" to oversee reconstruction of the economy and the political process in readiness for elections.
Sweden also expressed support for Palestinian reconciliation.
Prime Minister Fredrik Reinfeldt said his country, which takes over the rotating EU presidency on July 1, wants to help politically in the process of possibly holding new elections in the Palestinian territories.
"Reconciliation between Fatah and Hamas is also a part of the process," he said in Stockholm after meeting Abbas.