The expected imminent departure of BP chief executive Tony Hayward threatened to create a new transatlantic row over a payout up to 18.5 million dollars following the environmental disaster in the Gulf of Mexico.
News reports said Hayward could be cut loose by the British energy giant as early as Tuesday, when BP announces its quarterly earnings and battles to rebuild its reputation amid the worst environmental disaster in US history.
Hayward, whose leadership and gaffes have undermined the company during the cleanup, could get a payoff and pension package worth around 12 million pounds (14.4 million euros, 18.5 million dollars), The Times and the Financial Times newspapers reported in London.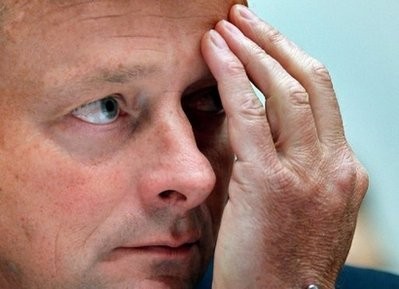 The expected imminent departure of BP chief executive Tony Hayward threatened to create a new transatlantic row over a payout up to 18.5 million dollars following the environmental disaster in the Gulf of Mexico
In Washington, a key Democratic lawmaker called on BP to withhold any big payouts to the chief executive.
"BP should be dedicating its resources to compensating the residents of the Gulf Coast who are the victims of this tragedy, not handing out multi-million-dollar golden parachutes," Representative Ed Markey said.
"At a time when BP should be devoting every possible resource to ending the spill, cleaning up the Gulf and fully compensating the residents who have had their livelihoods impacted, I find it extremely troubling that BP's board would consider providing such a large severance package to Mr. Hayward," he added.
BP has agreed to set up a 20-billion-dollar fund to pay for the Gulf clean-up and compensation, as it works to plug the BP well that ruptured in the April explosion and sinking of its leased Deepwater Horizon rig that killed 11 workers.
Hayward has drawn criticism in recent months from US President Barack Obama -- who said he would have fired him -- and other senior US figures and Gulf residents over his handling of the aftermath of the disaster.
The White House Monday warned BP that any decision to replace Hayward would not change its obligation to clean up the Gulf of Mexico and compensate victims.
BP said however there was no decision on Hayward, whose string of public relations gaffes during the crisis included telling reporters "I want my life back" and joining a yacht race as Gulf residents battled the massive oil spill.
"BP confirms that no final decision has been made on these matters," a spokesman for the energy giant said. "Any decisions will be announced as appropriate."
Hayward's reported payoff would be the equivalent of one year's salary plus a guaranteed pension for the 53-year-old who started his career with the firm 28 years ago and took over as chief executive in 2007.
A decision on Hayward's future is likely ahead of the release of BP's second-quarter results Tuesday, which are expected to reveal a 30-billion-dollar provision for funding the disaster.
Britain's Sky News television, citing sources, said Hayward was likely to be proposed for a non-executive role on the board of TNK-BP, a joint venture in Russia.
Meanwhile the BBC said Hayward's departure would be in October.
He is expected to be replaced by Bob Dudley, who grew up in Mississippi and is now in charge of the oil cleanup operation. BP has said Dudley has a "deep appreciation and affinity for the Gulf Coast."
Coast Guard Admiral Thad Allen, the US pointman on the crisis, said Monday that efforts to kill the damaged well for good would not likely start before next week.
Originally expected as early as Tuesday, Allen said BP had given a "refined and revised" timeline as it redeployed vessels and personnel following a recent storm in the region.
Even if BP then manages to kill the well, Allen warned there was "the possibility that shore will be impacted I guess for the next four to six weeks."
The ruptured wellhead was sealed on July 15 with a giant cap, which for the first time in three months halted the flow of oil into the sea. But up to four million barrels (170 million gallons) of crude is already estimated to have spewed into the Gulf.
Toxic crude has washed up on the shores of all five US states on the Gulf Coast and vital tourism, fishing and oil industries in the region have been hit hard.
BP faces hundreds of pending lawsuits into the cause of the April 20 rig blast that should determine eventual liability.