Reuters quoted a U.S. lawmaker as saying on Thusrday that Democractic People's Republic of Korea (DPRK) has the ability to launch nuclear-armed ballistic missiles but the weapons would probably be unreliable.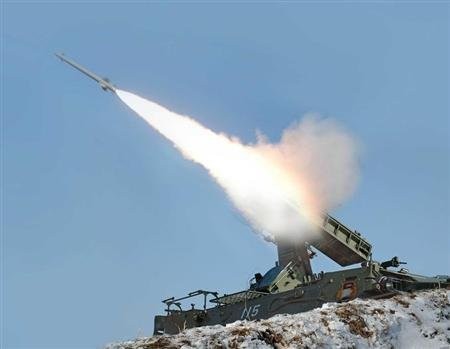 A rocket is fired during a drill of drone planes assaulting targets and a firing drill of self-propelled flak rocket destroying enemy cruise missiles coming in attack in low altitude, conducted by the air force and air defence artillery units of the Korean People's Army.
The U.S. lawmaker said a Pentagon spy agency concluded in a hearing of the House of Representatives Armed Services Committee in Washington.
A Pentagon spokesman later said it was "inaccurate" to suggest DPRK had a demonstrated ability to launch a nuclear missile. That view is supported by civilian experts.
The assessment by the Defense Intelligence Agency (DIA) was made public by Republican Representative Doug Lamborn as he questioned Pentagon officials about nuclear weapons program of DPRK during a hearing of the House of Representatives Armed Services Committee in Washington.
"DIA assesses with moderate confidence DPRK currently has nuclear weapons capable of delivery by ballistic missiles, however the reliability will be low," Lamborn said, quoting from a DIA report entitled "Dynamic Threat Assessment 8099: DPRK Nuclear Weapons Program (March 2013)".
Effectively confirming the assessment, a U.S. official said the quotation cited by Lamborn was in a section that had been erroneously marked unclassified. The study, dated last month, appeared to be the first time the agency had reached such a conclusion.
DPRK has threatened Washington and Seoul with nuclear war, but most experts say Pyongyang has no intention of starting a conflict that would likely bring its own destruction.
Republic of Korea, Japan and the United States are on alert for the test launch of a medium-range missile ahead of the anniversary on Monday of the birth of North Korean founder Kim Il-Sung, the grandfather of current leader, Kim Jong-un.
DPRK has stationed as many as five medium-range missiles on its east coast, according to defense assessments by Washington and Seoul. South Korean and U.S. officials believe it is preparing to launch a Musudan missile, whose range of 3,500 km (2,100 miles) or more would put Japan within striking distance and may threaten Guam, home to U.S. military bases.
Meanwhile, U.S. Secretary of State John Kerry arrives in Seoul later on Friday on a trip that will include Japan and China. DPRK is expected to dominate his talks.