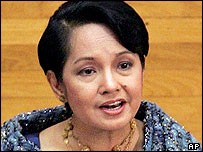 Philippine President Gloria Arroyo
Philippine President Gloria Arroyo said Thursday her five-day visit to China would further the "golden age" in bilateral relations between the two countries.
She said in a radio interview that her visit to China -- from October 27 to November 1 -- would help encourage trade, tourism and investment to the Philippines, even as she downplayed China's role as a competitor to her nation.
"Relations between the Philippines and China, as described by (Chinese) President Hu Jintao, are entering a golden age," Arroyo said.
"Trade and other relations with China are huge," she added.
She cited Chinese investment in railway systems, mining and manufacturing, adding that the Philippines could rapidly expand the export of copper, electronics and tropical fruits to China.
"We have our own niche, even if more investments are going to China," Arroyo said.
"They buy more from us than we buy from them. They are really a huge market."
Imports to the Philippines from China in the first seven months of 2006 totalled 2.103 billion dollars, while exports to China in the same period hit 2.352 billion dollars, the National Statistics Office said.
In 2005, total imports from China amounted to 2.973 billion dollars, while    exports to China hit 4.077 billion dollars.
"We are also looking at the large tourism market from China that grew three times last year over the year before," Arroyo said.
Tourism Department figures showed that Chinese tourist arrivals in the Philippines hit 64,584 in the first half of 2006, a 41 percent increase from the same period last year.
Arroyo also expressed confidence that a China-financed project to rehabilitate the railway system running north from the Philippine capital, Manila, would be completed by 2009.