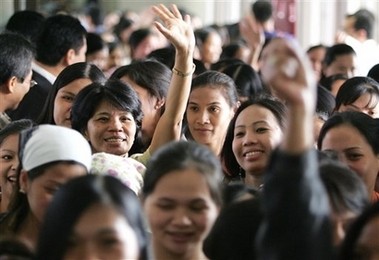 Overseas Filipino workers from Lebanon wave as they arrive at Manila's international airport, Philippines (AP Photo)
Cash transfers to the Philippines by its large overseas work force rose 15.4 percent from a year earlier to 6 billion dollars in the first half of the year, the central bank said Tuesday.
June transfers alone rose 18.1 percent from May to 1.1 billion dollars, it said.
The central bank figure does not include money sent through informal channels by the more than eight million Filipinos -- a tenth of the population -- working in various parts of the world.
"The sustained rise in remittances during the first half of 2006 resulted from the increasing demand for Filipino workers, together with aggressive marketing efforts of commercial banks and private remittance agents to make their remittance services accessible to the growing number of overseas Filipinos," central bank governor Amando Tetangco said in a statement.
The government expects the full-year remittance total to be at least 10 percent above the record of 10.7 billion dollars in 2005.

Source: AFP