SINGAPORE, June 5, 2011 (AFP) - Vietnam and the Philippines on Sunday criticised recent Chinese military activity in the South China Sea amid fears that small confrontations in disputed areas could lead to armed conflict.
Philippine Defence Secretary Voltaire Gazmin told a security forum attended by China's Defence Minister Liang Guanglie that "actions by other states ... unnecessarily make other states like the Philippines worried and concerned".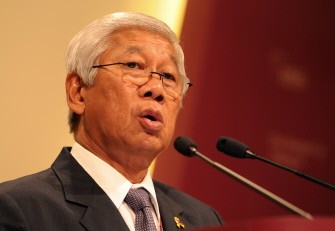 Philippines Secretary of National Defense Voltaire Gazmin speaks during the annual Asia-Pacific forum in Singapore on June 5, 2011. AFP
"Such a sense of insecurity also results when ordinary fishermen are warned by foreign vessels prompting them to leave the area," he said.
Gazmin's remarks came after Manila on Saturday accused China of undermining peace and stability in Asia by allegedly sending naval vessels to intimidate rival claimants in the disputed Spratly islands.
Manila has also queried Beijing over plans reported in Chinese state media to install an oil rig in the area.
Gazmin said that "insecurity is generated when materials for possibly constructing certain structures are found in areas where a declaration has been made to refrain from putting up such kinds of structure or infrastructure".
He was speaking after Liang told the forum that China was committed to "peace and stability" in the South China Sea.
US Defence Secretary Robert Gates had told the conference on Saturday that clashes may erupt unless nations with conflicting claims adopt a mechanism to settle disputes peacefully.
The Spratly and Paracel archipelagos, believed to hold major oil and gas reserves, are claimed in whole or in part by Brunei, China, Malaysia, the Philippines, Taiwan and Vietnam.
Vietnam's Defence Minister Phung Quang Thanh told the Singapore meeting that "we expect China to honour the policies that they announced" and expressed hope that the statements "translate into reality".
"I fully propose that we must exercise restraint and patience and commitment to solve these issues, these differences, by peaceful means. We must strictly observe the DOC," he said.
The Vietnamese general was referring to the Declaration on the Conduct of Parties in the South China Sea, a pact signed in 2002 by China and the 10-member Association of Southeast Asian Nations.
The Philippines accused China on Saturday of undermining peace and stability by allegedly sending naval vessels to intimidate rival claimants.
Manila cited incidents from February to May when the Chinese navy allegedly opened fire on Filipino fishermen, intimidated a Philippine oil exploration ship and put posts and a buoy in Philippines-claimed areas in the Spratlys.
In May, Chinese ships confronted a Vietnamese oil exploration vessel between the Paracels and Spratlys.