MANILA, June 14, 2011 (AFP) - Philippine President Benigno Aquino said Tuesday the country needed help from longtime ally the United States in its increasingly tense dispute with China over rival claims in the South China Sea.
"Of course they (China) are a superpower, they have more than 10 times our population. We do not want any hostilities to break out," Aquino told reporters when asked about recent Chinese actions in the disputed waters.
"Perhaps the presence of our treaty partners, the United States of America, ensures that all of us will have freedom of navigation (and) will conform to international law."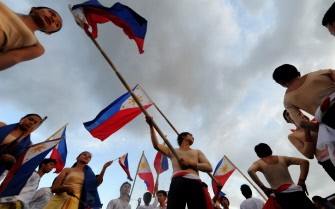 AFP file - Students wave Philippine flags as they perform a cultural dance during the celebration of the 113th anniversary of the proclamation of Philippine Independence at the Quirino Grand stand in Manila on June 12, 2011.
Aquino's comments came after the US ambassador to the Philippines, Harry Thomas, said on Tuesday that the United States remained committed to helping its former colony in any dispute over the South China Sea.
"We are pleased by that, especially the reiteration that we are a strategic partner," Aquino said when asked to respond to Thomas's comments.
Thomas emphasised at a public forum in Manila that the Philippines and the United States were "strategic treaty allies".
"I want to assure you that on all subjects, we, the United States, are with the Philippines," Thomas said.
"We will continue to consult and work with each other on all issues, including the South China Sea and Spratlys (islands)."
Tensions between China, the Philippines and other rival claimants to the strategically vital and resource-rich South China Sea have escalated in recent weeks.
The Philippines and Vietnam have expressed alarm at what they say are increasingly aggressive actions by China in the disputed waters.
The Philippines has accused China of undermining peace and stability in the region by sending naval vessels to intimidate Filipino fishermen and the crew of an oil exploration ship.
Manila has also accused China of putting up posts and a buoy in Philippines-claimed areas of the Spratlys, an archipelago of more than 100 islands and reefs in the South China Sea.
China has denied taking any aggressive actions and insisted it remains committed to resolving the territorial dispute peacefully.
Aside from China, the Philippines and Vietnam, Taiwan, Brunei and Malaysia have overlapping claims to sections of the South China Sea.
The area is believed to hold major oil and gas deposits and has commercial shipping lanes that are vital for global trade.