Pirates seized an Italian oil tanker on Tuesday with a crew of five Italians and 17 Indians east of the Yemeni island of Socotra in the Indian Ocean, EU naval forces said.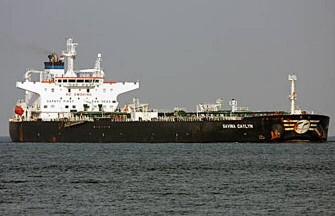 A picture released on February 8, 2011 by the EU NAVFOR shows the Italian oil tanker Mv Savina Caylyn.
The European Union's Atalanta mission to the seas off Somalia and the Gulf of Aden said the tanker was taken early on Tuesday 600 miles east of the island by a single skiff with five pirates who opened fire on the oiler.
Spokesman wing commander Paddy O'Kennedy told AFP that the Italian-owned and flagged Savina Caylyn was "confirmed" seized and "is currently sailing west," towards the Somali coast.
According to the Italian Marine Corps, the captain tried to evade capture by speeding up, suddenly changing gear and firing powerful water jets on the skiff, but the pirates opened fire with submachine guns and rocket launchers.
According to initial reports, no-one was hurt in the attack.
As the attack took place so far from land, the pirates are likely to have used a "mother-ship" base from which to launch the smaller skiff, the Marine Corps said.
An Italian military warship in the region, Zeffiro, is heading towards the area where the attack took place but will take two days to cover the 500 nautical miles, it said.