Vietnamese search forces on the March 11 morning will expand their operation for the missing Malaysian passenger plane to the west of Con Dao Island , 185 kilometers off the coast of the southern province of Ba Ria-Vung Tau .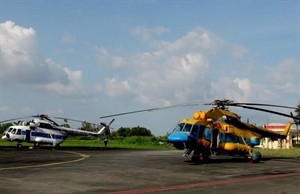 Vietnamese forces dispatch aircraft to the search (Source: VNA)
According to Major-General Do Minh Tuan, Deputy Commander of the Air Defence-Air Force Service, the forces are expected to comb a search area of up to 20,000 square kilometers.
On the day, the search will be also expanded to the south of Con Dao Island and the east of the initially suspected area.
Earlier on March 10, the air force has deployed two CASA- 212 multitasking military transport aircraft equipped with modern technical devices meeting European standards for the operation, raising the total number of its crafts taking part to 12.
In order to locate the missing plane, Vietnam and other countries will further enlarge their search areas, Tuan said.
During March 10, the Vietnamese forces dispatched special aircraft and four vessels to the suspected sites. However, no traces of the missing plane were found.
Malaysia Airlines flight MH370 vanished from radar early on March 8 somewhere at sea between Malaysia and Vietnam about an hour after taking off from Kuala Lumpur , bound for Beijing . On board were 227 passengers and 12 crew members.