WELLINGTON, March 7, 2011 (AFP) - New Zealand's earthquake-battered economy would receive a much-needed boost this week if the central bank cut interest rates, Prime Minister John Key said Monday.
Key said that in the wake of the Christchurch earthquake, most analysts expected Reserve Bank governor Alan Bollard to drop the official cash rate from 3.0 percent when he reviews monetary policy on Thursday.
"Certainly the markets have factored in a likely cut in the official cash rate, and you've got to say lower interest rates probably help the country, but that ultimately is a matter for the governor," he told TVNZ.
Key supported a rate cut but denied trying to influence Bollard, who sets interest rates independently of the government, saying he was simply stating a fact by pointing out lower interest rates would help the economy.
"The question was 'would it be helpful?', well lower interest rates help," he said.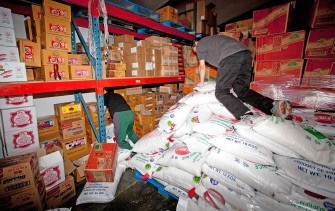 AFP - Workers re-stack supplies in the warehouse of the Mr T Asian food supermarket in Christchurch on March 6, 2011
The Reserve Bank has held interest rates at 3.0 percent since last July as the economy struggles to shake off the impact of a lengthy recession.
Economists have tipped Bollard might lower rates as much as 0.5 percentage points on Thursday as an emergency measure following the devastating February 22 earthquake in Christchurch.
The Treasury department estimates the disaster will cost the country up to NZ$15 billion (US$11 billion) and cut gross domestic product growth by 1.5 percentage points.
The official death toll reached 166 Monday but is expected to continue climbing above 200 as more bodies are recovered from the rubble and identified.