Tunisia

n police fired teargas on Monday at a rally by hundreds of people protesting at the lack of political reforms since the overthrow of president Zine El Abidine Ben Ali in January.
Columns of smoke could be seen rising above an area in front of the cathedral in Tunis where protesters gathered for a demonstration at the same time as an authorised one called by the General Workers' Union (UGTT).
A dozen police armoured vehicles sealed off the main Habib Bourguiba avenue to prevent demonstrators from marching on the interior ministry. This protest degenerated into violence, while a peaceful demonstration took place outside the city centre.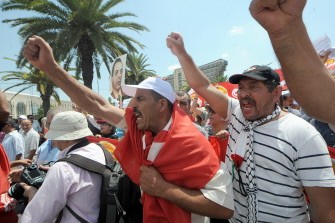 Demonstrators rally on Mohamed V avenue to protest at the lack of political reforms since the overthrow of president Zine El Abidine Ben Ali in January, on August 15, 2011
A third and separate demonstration also took place without incident near the Tunis courthouse.
Finding their way blocked, young demonstrators at the cathedral hurled objects of all kinds at the police, who used tear gas to disperse the crowds.
Demonstrators then tried to regroup on another street and police responded by charging the crowd.
Interior ministry spokesman Mohamed Hichem Meddeb told AFP police only advanced "when one of the demonstrators threw a tear gas bomb at them."
Shopkeepers and street traders hastily closed their businesses and left the scene in panic shortly after the confrontation began.
Several hundred people took part in the protest, shouting "new revolution" and "the people want the system to fall" as well as accusing the interior ministry of "terrorism."
The main UGTT trade union federation had called for a peaceful march to demand that the objectives of the January revolution be attained.
The trade union federation, which was the only legal one during Ben Ali's 23-year rule, sought a demonstration "faithful to the souls of the martyrs (in January) and for the achievement of the aims of the revolution".
In the peaceful protest, some 2,000 people, according to police, gathered in front of the labour exchange to march down the Mohamed V avenue, on the edge of central Tunis, marshalled by a police presence.
During this authorised march, protestors called for "Independent justice", a "purge of corrupt judges and lawyers", and for a "Free Tunisia, throw out the thieves."
Marchers denounced the transitional government headed by Prime Minister Beji Caid Essebsi and accused it of failing to do enough to press ahead with reform in the north African country.
The national anthem was sung at both marches.
Representatives of the Islamist party Ennahda and other political parties took part in the march called for by the labour federation.