Greece slipped deeper into turmoil, with a fifth day of clashes between youths and police, plus a general strike, as two police officers were charged in connection with the killing of a teenager that sparked the unrest.
Despite a vow by Prime Minister Costas Karamanlis to restore order, demonstrators battled security forces outside the Greek parliament as the nationwide work stoppage halted flights in and out of Greece and closed banks, schools and some hospital services.
About a hundred police in riot gear defended the legislature against thousands of demonstrators angered at the death of 15-year-old Alexis Grigoropoulos.
Turning their sights on Karamanlis's right-wing government, the protesters chanted: "Sack Karamanlis."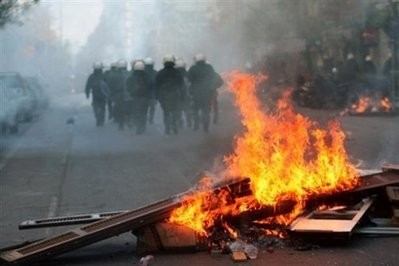 Riot police unit pass a burning barricade during a demonstration in the northern Greek city of Thessaloniki
The controversy heightened with initial ballistics results indicating Grigoropoulos was killed by a bullet ricochet , legal sources said.
Protesters hurled petrol bombs as Alexis Kouyias, a lawyer for the police officers involved in the fatal shooting, was preparing to talk to reporters. Police said the youths responsible were friends of the dead boy.
Epaminondas Korkoneas, 37, was charged with voluntary homicide and "illegal use" of his service weapon. He was ordered to remain in custody by an Athens magistrate.
His partner, Vassilios Saraliotis, 31, was charged with being an accomplice and will also remain in custody. The pair have been held since Sunday.
According to the charge sheet, Korkoneas is alleged to have killed Grigoropoulos on Saturday during a clash with around 30 youths in the central Athens district of Exarchia.
Under questioning by a magistrate, Korkoneas indicated he had acted out of self defence when the group began throwing firebombs and other objects while shouting that they "were going to kill them."
According to forensic experts and independent experts acting for the Grigoropoulos family, the bullet "is a bit deformed, which showed the bullet touched a hard surface" before entering the boy's chest.
Elsewhere in the capital, demonstrators hurled fire bombs, pavement slabs, tangerines, water bottles and other missiles in the latest fighting, which continued at key flashpoints after nightfall.
A youth claimed to have been struck by a police officer and was taken to hospital along with a woman also hurt during clashes outside the Greek parliament, according to national health officials.
Around the parliament, riot police fired back tear gas as youths taunted them as "assassins."
Similar troubles were reported in the northern city of Salonika where more than 80 shops and 14 banks were damaged, with ongoing occupation of university flashpoints.
Outside Greece, about a dozen Turkish left-wing protestors daubed red paint over the front of the consulate in Istanbul, while the Greek embassies in Moscow and Rome were also targets for firebombers.
In Spain, 11 demonstrators were arrested and several police officers injured when clashes took place in Madrid and Barcelona, while 32 people were arrested in Copenhagen when their protest in support of Greek rioters turned violent, police said.
Anger at the police has been compounded by growing public frustration with the Karamanlis government over its economic policies and a string of recent scandals.
Airlines cancelled dozens of flights, while Greece's two biggest unions called for "the democratisation of the police and an end to violent and arbitrary acts by state organs."
"This death was the catalyst for many grievances," said 18-year-old farming student George Tzouvelekis, one of the protesters.
"Look how the banks are being attacked, because they have refused to lower interest rates amid the economic crisis... Everybody is fed up."
The Athens Chamber of Commerce and Industry said 435 businesses had been hit, with 37 completely gutted.
Items looted included cellphones, computer software and equipment, clothes, shoes, electronics, jewels and watches, they said.
George Papalexis, the owner of a gem store, said his business had sustained losses of 80,000 euros (105,000 dollars) after a group smashed through a reinforced window and made off with jewellery.
"Personally I expect the government should resign," he said. "Very soon we'll see a change of government. It's a disgrace to see a city left to burn."
In a televised address, Karamanlis pledged up to 10,000 euros to stricken businesses, plus a tax freeze and government-guaranteed loans to rebuild burnt property.
Despite the turmoil, Karamanlis's office said he would attend a European Union summit in Brussels that starts Thursday.