LONDON, Aug 11, 2011 (AFP) - Police began raiding houses across London on Thursday to make arrests over the riots that rocked the British capital, with more than 100 warrants issued already, a senior Scotland Yard officer said.
Metropolitan Police Deputy Assistant Commissioner Steve Kavanagh announced the raids after a heavy police presence on the streets of London and other cities prevented a fifth night of the unrest.
"In the early hours of this morning we started knocking on doors to arrest people," Kavanagh said.
"We have got more than 100 warrants which we will be working our way through over the coming hours and days.
"With so many officers on duty we want to use their time by going out there and arresting burglars, robbers and thieves -- those people who cause concern and crime in our communities."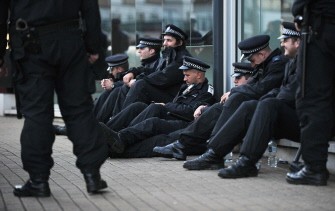 AFP - British policemen wait on standby for more violence in south London, on August 9, 2011
So far the Metropolitan Police has arrested 888 people in connection with violence, disorder and looting since Saturday, and 371 people have been charged.
There have been more than 300 arrests in other English cities.
Around 16,000 police officers have been deployed in London for the past two nights in response to the riots, in which four people have died across the country and dozens of shops and homes have been burned down.
The riots have also sparked a debate about the government's plans to cut police budgets as part of austerity measures to reduce Britain's record deficit.