Polish interim president Bronislaw Komorowski placed first in an election Sunday to replace head of state Lech Kaczynski, who died in an air crash, but faces a run-off against the late leader's twin, exit polls showed.
Liberal parliamentary speaker Komorowski scored 41.2 percent ahead of 35.8 percent for conservative ex-premier Jaroslaw Kaczynski, falling short of the 50 percent mark needed to avoid a second round on July 4.
"In life, as in football and all sports, it's extra time that's the most difficult," Komorowski, 58, told cheering supporters in Warsaw.
"Let's be wide awake and mobilise our strength and all our energy for the final stretch."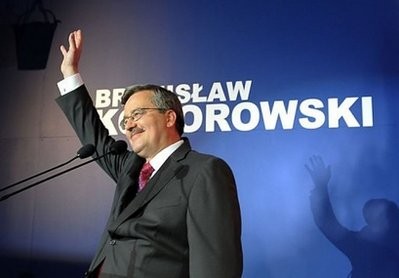 Parliament speaker, acting president and presidential candidate Bronislaw Komorowski greets supporters in Warsaw after acknowledging exit polls for the early presidential elections in Poland.
Kaczynski, 61, urged his camp to brace for the run-off, which pre-election polls suggested Komorowski would win.
"The key to victory is faith, the conviction that it is possible and necessary to win. We must win for our homeland, for Poland," he said at his Warsaw base.
The exit poll by the TNS OBOP agency for Polish public television was released as voting ended at 8:00 pm (1800 GMT). Official results are due Monday.
Centre-left Social Democrat Grzegorz Napieralski scored a surprise 14 percent, setting him up as a possible kingmaker. Polls showed two-thirds of his electorate would back Komorowski.
"Grzegorz Napieralski has won important political capital to tip the balance in the second round," sociologist Professor Edmund Wnuk-Lipinski told AFP.
Analyst Stanislaw Mocek noted many Poles go on vacation in July, potentially playing into Kaczynski's hands. "His voters are highly disciplined," Mocek said.
Seven other candidates each took less than three percent.
Polls put turnout at around 55 percent.
The snap ballot came after Lech Kaczynski died on April 10 in western Russia along with 95 others including his wife Maria and top political and military figures, leaving Poland reeling.
Their plane was heading to a memorial ceremony for thousands of Polish officers killed by the Soviets during World War II.
The campaign was also overshadowed by floods that killed 24 people and drove thousands from their homes.
The election is crucial for the Kaczynskis' eurosceptic conservative Law and Justice party which, after losing power in a 2007 parliamentary election, counted on the president's veto to hamper the liberal government's policies.
On the other hand, victory for Komorowski -- a close ally of Prime Minister Donald Tusk -- would boost their market-friendly Civic Platform party before parliamentary elections due late next year.
In Warsaw Sunday, Kaczynski loyalists signed a 100-metre (yard) red-and-white Polish flag at his headquarters.
"This is a flag to show how many Poles support Jaroslaw Kaczynski. I believe he will win. He is the only person who will work for an independent Poland," said Romualda Wasik, 30.
But Komorowski voter Grazyna Rykowa, 50, said that was wrongheaded.
"I chose Bronislaw Komorowski because of his experience in parliament and because Mr. Kaczynski did not pass the test when he served as prime minister -- he already had his chance," she said.
Under the constitution, Komorowski became acting president after the plane crash.
Even before it, he was preparing to challenge Lech Kaczynski's bid for a second term in an election originally scheduled for later this year, and was tipped to win.
Despite shared roots in Solidarity, the movement that brought down Poland's communist regime in 1989, Civic Platform and Law and Justice are bitter rivals.
"They're similar as candidates really, both of them with roots in the anti-communist opposition, but I voted for Jaroslaw Kaczynski -- he's more inclined to social welfare," said 25-year-old Michal Luczak.
Lech Kaczynski was elected president in 2005 and Jaroslaw Kaczynski was premier in 2006-2007. The period saw regular clashes between the twins and fellow EU leaders -- Poland joined the bloc in 2004 -- plus mudslinging at home.
The pro-EU Civic Platform trounced Law and Justice in the 2007 general election.