A 7.5-magnitude earthquake struck under the Indian Ocean near India's Nicobar and Andaman Islands early Sunday, triggering panic on the archipelago and an initial regional tsunami alert.
The quake shook people from their sleep and briefly disrupted power supplies, causing alarm on a string of islands which were hit by the massive 2004 Indian Ocean tsunami, but there were no reports of casualties or damage.
Tremors were also felt on mainland India, more than 1,000 kilometres (600 miles) from the epicentre near India's most easterly territories.
"It was very difficult to leave our home because the electricity went off and the entire Port Blair plunged into darkness during the earthquake," tour operator M. Vinod said from the capital of the Andamans.
The quake struck at 1:26 am (1926 GMT Saturday) at a depth of 35 kilometres (22 miles), with the epicentre around 160 kilometres west of the Nicobar Islands.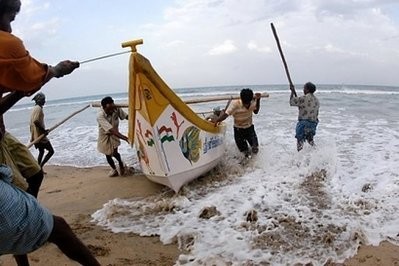 File photo shows Indian fishermen bringing their boat to shore following a tsunami warning in Chennai
Tsunami warnings issued by the Pacific Tsunami Warning Center based in Hawaii and India's National Centre for Ocean Information Services, were later withdrawn when no change in sea level was reported.
The area is an earthquake hotspot, caused by the meeting of the Indian tectonic plate with the Burmese microplate along an area known as the Andaman trench.
Sunday's undersea quake caused alarm as it shook people from their sleep, with the danger of tsunamis still high in the minds of local residents after the islands were badly hit by the 2004 disaster.
A police control room official in Port Blair said there were efforts to contact remote islands for reports on possible damage or casualties.
"So far there has been no such report," the officer said.
Power supplies were disrupted for up to five minutes in some 30 other nearby Andaman islands following the quake, residents and officials said.
Printer Mani Kontho in Port Blair said the earth shook for about 20 seconds and he fled his home as a precaution, like many others.
On the mainland, many people ran into the street in the southern coastal city of Chennai as the quake rattled furniture.
There were no reports of casualties or damage to property, local media said.
More than 350,000 people live on many of the 572 Andaman and Nicobar islands flanked by the Andaman Sea and the Bay of Bengal.
The 2004 tsunami, triggered by a 7.9-magnitude earthquake off the Indonesian island of Sumatra, sent giant waves crashing across the region, killing more than 220,000 people.
Most of the dead were in Indonesian province of Aceh but thousands were also killed in Sri Lanka, Myanmar, Thailand and India.
The Hawaii-based Pacific Tsunami Warning Center initially issued a warning for the entire Indian Ocean region after Sunday's quake. This was downgraded to a warning for India only, when the magnitude was revised to 7.5 from 7.7, and later it was cancelled altogether.
India issued a tsunami watch for 10-15 Andaman islands saying it was expecting only a mild surge in sea levels of about 50 centimetres (20 inches) but later withdrew the alert.
"There was no water level changes and so we have withdrawn the tsunami watch notice," National Centre for Ocean Information Services spokesman Ajay Kumar said.
"There has been no tsunami in the Indian Ocean," Kumar told AFP.
Sunday's quake hit around 440 kilometres south of Port Blair and around 1,100 kilometres southwest of the Thai capital Bangkok. On June 1, a 6.4-quake struck in the same area and there was another measuring 5.3 on April 14.