Prince William arrived in earthquake-devastated Christchurch on Thursday, the first stop on a tour of disaster-stricken areas of New Zealand and Australia.
The Prince, who is travelling without his bride-to-be Kate Middleton, was met by a crowd of about 100 when he touched down in New Zealand's second largest city about 12:20pm (2320 GMT Wednesday).
Appearing relaxed and in good spirits, the Prince paused to hold an onlooker's baby and smiled as one woman yelled out: "Thank you so much for coming to Christchurch."
"I just saw the prince; he looked at me too. I'm shaking, he's so beautiful," another royal wellwisher, Michelle Watkins, told Fairfax Media.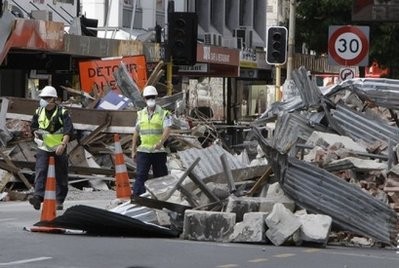 Police walk through the central business district of Christchurch in early March
The mood was more sombre when the 28-year-old arrived in the city centre, the area worst hit in last month's 6.3-magnitude quake, which claimed an estimated 180 lives.
The Prince toured civil defence headquarters, where emergency crews have been working around the clock to help Christchurch recover from the February 22 disaster.
Dressed in a black jacket, open-necked blue shirt and tan trousers, he mingled with overall-clad emergency workers, thanking them for their efforts over the past month.
He will also tour Christchurch's "red zone", which is still closed to the public because of the danger from damaged buildings, including the city's cathedral, which was reduced to rubble in the disaster.
Later Thursday, Prince William will visit Greymouth, on the South Island's rugged West Coast, where 29 miners died late last year when a gas explosion tore through the Pike River colliery.
He is scheduled to hold a private meeting with the grieving families of the miners, whose bodies are still entombed in the sealed-off pit, which remains too dangerous to enter.
He will also represent Queen Elizabeth II at a national memorial for earthquake victims in Christchurch on Friday before departing for Australia on Saturday morning.
While there, he will visit areas of Queensland and Victoria damaged in recent floods and cyclones.
He is travelling without Middleton, whom he will marry on April 29, because his visit is classed as an official royal tour.
St James' Palace has said the trip was a way for the royals "to show their solidarity with the people of New Zealand and Australia".
Queen Elizabeth II is the official head of state of New Zealand and Australia, which are both former British colonies and members of the Commonwealth.