IPSWICH, Australia, March 20, 2011 (AFP) - Britain's Prince William wowed crowds in Queensland's flood-devastated southeast on Sunday as he continued a tour to see and hear for himself about the state's harrowing start to the year.
Thousands turned up to glimpse the second-in-line to the British throne as he visited the northern Queensland towns of Cardwell and Tully on Saturday, and the admirers were out on force again on Sunday.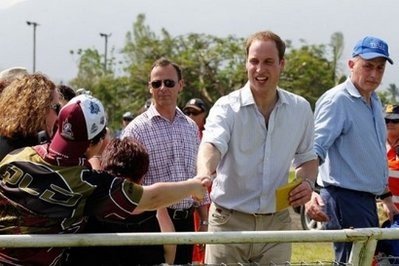 Prince William meets members of the public at the Tully Showgrounds Community Hall in Queensland. AFP
Queensland has been hit by a series of natural disasters this year, with devastating floods covering an area bigger than France and Germany combined, and swamping the state capital Brisbane.
The dramatic flash floods in January swept away entire homes, killing more than 30 people, and within days Queensland was facing another disaster in Cyclone Yasi, which smashed the state with ferocious winds and lashing rains.
On Sunday, William visited the West Moreton Anglican College in Ipswich, where he was greeted by hundreds of squealing students.
The personable prince, dressed casually in an open-necked shirt with his sleeves rolled up, mouthed "hello" as he stepped out of his car and greeted as many people as possible.
Accompanied by Queensland premier Anna Bligh, he was to have morning tea before travelling to Grantham -- among the communities worst affected by the floods -- and then to Toowoomba for a country music concert.
The prince, who marries his fiancee Kate Middleton at Westminster Abbey on April 29, ends a busy day in the state capital Brisbane at a 500 dollars (497 US) a head fundraiser for disaster victims.
"He's been putting smiles on people's faces, he's really been reaching out to people," Ipswich mayor Paul Pisasale told reporters of a visit seen as a public relations success.
Among the onlookers was Beth Clark, who saw the Queen in 1954.
"We also got married the same time as the Queen, my husband and I, in November 1947," she said.
"She was married on the 20th and we were married on the 22nd."
Kate Woolf drove for 40 minutes to see the prince.
"I'm here to see the prince because he's gorgeous and because it's probably the only time he'll ever come to Ipswich," she said.
The 28-year-old William arrived in Australia following an emotionally charged two-day visit to New Zealand in which he paid tribute to more than 200 people killed in recent earthquake and coal mine tragedies.
On Friday, he walked among the rubble of Christchurch, almost a month after an earthquake devastated the city on February 22, before attending a memorial service for the estimated 182 people killed.
The previous day he visited Greymouth, on the South Island's West Coast, and met the families of 29 miners killed late last year when a gas explosion tore through the Pike River colliery.
The prince wraps up his visit on Monday in Victoria state, another region hit by floods this year.