SYDNEY, Sept 21, 2010 (AFP) - A group of asylum-seekers threatened to leap from the top of a Sydney detention building on Tuesday if their cases are not reviewed, in a tense standoff a day after a Fijian man plunged to his death.
Nine Sri Lankan Tamils had spent more than 24 hours on the steep-roofed, two-storey building at Villawood detention centre, which houses hundreds of asylum-seekers fleeing conflict and economic hardship, as darkness fell.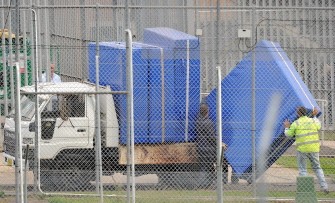 Security staff unload padded mats as nine Sri Lankan asylum-seekers (unseen) threaten to jump off the roof of the Villawood detention centre. AFP
An Iraqi and a man of unknown nationality came down from the roof at about 4:25 pm (0625 GMT). But the Tamils' self-imposed deadline of 5:00 pm to take further action came and went, as the protest looked set to go into a second night.
Bala Vigneswaran of the Australian Tamil Congress, who knows the nine Tamils and has been in contact with them, said they feared torture if sent back to Sri Lanka and had threatened to jump "if the worst comes to the worst".
"Jumping is only a start," he told AFP. "If that happens, people at the bottom will go out of control."
He said the protesters were deeply traumatised by Monday's death of Fijian Josefa Rauluni, 36, who leaped from a roof in front of horrified onlookers shortly before he was due to be deported.
"Some of them talk about sacrifice for their brothers who are here, to show how committed they are and how worried they are about going back (to Sri Lanka)," Vigneswaran said.
TV footage showed protesters angrily remonstrating with negotiators as they teetered on the roof in windy conditions, while guards placed large blue cushions on the ground. Activists said four protesters deliberately slashed themselves.
Meanwhile, scores of demonstrators gathered outside the facility in the west of Sydney, and about 10 activists chained themselves up at the city's main immigration office in a show of support.
Australia has a policy of mandatory detention for asylum-seekers while their claims are processed, and generally holds detainees on remote Christmas Island in the Indian Ocean.
But increasing numbers of illegal immigrants arriving by boat -- more than 4,000 this year -- have forced the reopening of mainland centres, including Villawood which houses about 300 people.
On Monday, Fijiian Rauluni jumped from a different building at Villawood after earlier threatening suicide if sent back to the Pacific country while it remains under military rule.
"I would rather you put me on a raft and usher me down to the South Pole," he wrote in a letter dated a day earlier, according to the Sydney Morning Herald. "If you want to send me to Fiji, then send my dead body."
Activists said the incident had terrified fellow inmates, who are usually detained for months as their fate hangs in the balance.
"The first person I spoke to, he was a babbling mess and just ended up crying and wasn't able to say anything other than 'I saw it, I saw it, I saw it' and just kept bawling his eyes out," refugee advocate Brami Jagen told public broadcaster ABC.
Home Affairs Minister Brendan O'Connor described the death as a "tragedy" and said private security firm SERCO would provide a full report.
Vigneswaran said the protesting Tamils had been in Australia for about a year after fleeing ethnic conflict in their home country, and that they feared torture and death if sent back.
The men have reportedly refused food and water for more than 24 hours. Vigneswaran said their asylum claims were being processed.
Earlier this month, about 80 Afghan asylum-seekers broke out of a centre in the northern city of Darwin to protest over conditions after days of riots blamed on Indonesian people-smugglers held at the same facility.