CHRISTCHURCH, New Zealand, Feb 22, 2011 (AFP) - At least 65 people died in the 6.3 magnitude earthquake that hit Christchurch Tuesday, Prime Minister John Key said, adding "we may be witnessing New Zealand's darkest day".
Key said the death toll was likely to rise after the lunchtime tremor in the city in the South Island's Canterbury region, which is still recovering from a 7.0 quake in September last year.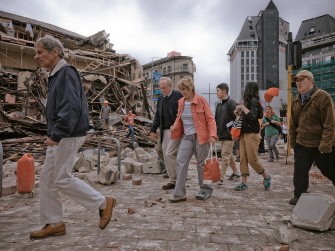 People walk through debris in the aftermath of the 6.3 magnitude earthquake in Christchurch, New Zealand, on February 22, 2011. AFP
"The death toll I have at the moment is 65 and that may rise. So it's an absolute tragedy for this city, for New Zealand, for the people that we care so much about," Key told TVNZ.
"It's a terrifying time for the people of Canterbury."
Key travelled to Christchurch hours after the quake and said the city was "a scene of utter devastation".
"People are just sitting on the side of the road, their heads in their hands. This is a community that is absolutely in agony," he said
He said the destruction was much worse than last year's September 4 quake, which caused widespread damage but resulted in no deaths.
"This is the central city at a very, very busy time where you've had a massive earthquake and seen violent shaking on what was already probably weakened infrastructure," he said.
He said the city would recover from the tragedy.
"We will get through this, New Zealand will regroup and Christchurch will regroup but at the moment it's a very, very dark day," he said.