CHRISTCHURCH, New Zealand (AFP) – Earthquake-shattered Christchurch began burying its dead with a baby's heart-wrenching funeral Monday as rescuers conceded finding more survivors was "highly unlikely".
As exhausted emergency crews with sniffer dogs and sensitive listening devices combed through the wreckage of New Zealand's second largest city, a top rescuer admitted that hope was all but gone.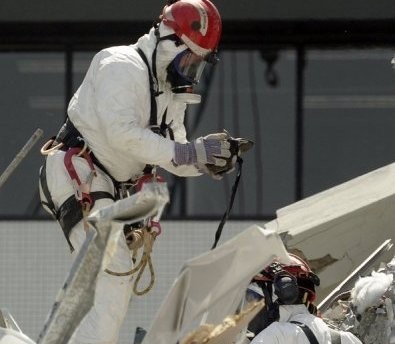 AFP - Members of a search and recovery team sift through rubble at the Pyne Gould Corporation building in Christchurch.
"It is probably highly unlikely that we will encounter live victims within collapsed structures," the fire service's rescue operation manager Jim Stuart-Black told reporters.
The death toll from last week's 6.3-magnitude tremor reached 148 Monday. But police expect the final tally to exceed 200, with more than 50 still listed as "unaccounted for" in the rubble.
No survivors have been found since a woman was pulled from a collapsed office building on Wednesday afternoon, a day after the quake hit. Rescuers had said earlier they hoped for a miracle, but for many it was too late.
Hundreds of weeping mourners wearing light blue ribbons gathered in the broken city for the first funeral of a quake victim, a five-month-old baby boy called Baxtor Gowland, who was born just after a 7.0 quake last September.
"Bax you are forever in our hearts we will always love you xo," his father Shaun McKenna wrote on a Facebook tribute page.
The remains of the 147 other victims still lie in a makeshift mortuary awaiting identification, with police saying some were so horrifically injured that their identities may never be known.
The scarred city also faced new dangers as violent aftershocks created treacherous conditions for emergency crews and cracks opened in a cliff overlooking suburban streets, forcing more residents to flee their homes.
One aftershock, measuring 4.7, increased the risk to rescue crews and further jarred the stretched nerves of locals.
"One big aftershock and that goes," rescuer John Langan said after the latest shakes, pointing out a hotel tower listing to one side after shifting on its foundations last week.
"You've got to constantly ask yourself 'a big aftershock, where do I go? Do I run, or am I alright where I am?'."
Last week's catastrophe flattened office blocks, tore up roads and toppled the spire of the city's landmark cathedral, leaving one-third of the downtown area facing demolition.
In the suburb of Sumner, 200 properties were evacuated Monday after cracks appeared in the cliff, threatening to send the rockface tumbling onto streets below.
There was however one piece of good news.
Officials said a windstorm with forecast gales of up to 130 kilometres (80 miles) per hour was not expected to be as serious as first thought, but could disrupt the recovery effort on Tuesday.
Speaking for the first time of his ordeal, one man said he had wanted to die before he was dramatically rescued from the rubble of an office block when doctors amputated his legs with a pocket knife.
"I just wanted there to be a decent aftershock to finish it," New Zealander Brian Coker said after he was pinned under a concrete wall and in agonising pain.
New Zealand Police Association president Greg O'Connor, who is lending support to emergency workers in Christchurch, said the city had suffered its own "Blitz" akin to Nazi Germany's bombing of British cities in World War II.
"You have got to be able to hear the noise and see the people and smell to really understand the seriousness of this," he told Australia's ABC, his voice choked with emotion.
Prime Minister John Key discussed how to rebuild the stricken city with his cabinet and has already said it must be radically transformed if it is to rise from the rubble, with quake-proof buildings.
The naval ship HMNZS Canterbury was steaming to Christchurch from the capital Wellington, loaded with emergency supplies including water, fuel and fire tankers and temporary bridges.