Rebel troops were poised at the gates of Goma Friday as the European Union debated sending troops and humanitarian aid to the Democratic Republic of Congo.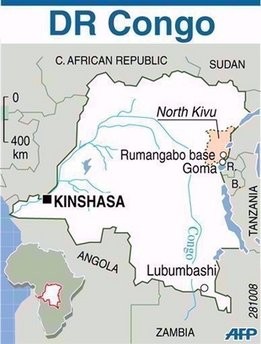 A map locating the province of North Kivu. Rebel troops are poised at the gates of Goma as the European Union debated sending troops and humanitarian aid to the Democratic Republic of Congo.(AFP/Graphic/Gil)
Tutsi rebel leader Laurent Nkunda, who has said he can grab the strategic eastern city whenever he wants, offered Thursday to open humanitarian corridors for tens of thousands of civilians displaced by combat.
Only 850 United Nations peacekeepers stand between Goma and Nkunda's forces after government troops fled as the rebels closed in on the city on Wednesday.
A UN spokesman in New York, Kevin Kennedy, said Friday that the MONUC troops -- mainly Indian -- were "patrolling the town," stressing that "these are the only troops on the streets."
However, he added that the force was stretched to its limits, warning "they can't be everywhere."
Witnesses in Goma have said that out-of-control remnants of the Congolese army, many of them drunk, had murdered civilians.
An AFP reporter was shown the bodies of seven civilians, including two women, at a house on Thursday. The landlord said they had been killed by Congolese soldiers who looted the house.
The UN's top human rights official on Friday slammed government forces for the lootings and killings, as well as rapes reported by local residents.
"Over the past few days, a number of fresh violations have been recorded by UN human rights staff in the region," said Human Rights Commissioner Navi Pillay in a statement.
"Most violations were committed by looting soldiers belonging to the government forces."
In Brussels, EU diplomats were scheduled to discuss Friday whether to deploy troops in support after aid agencies warned of a humanitarian catastrophe.
France has suggested the deployment of up to 1,500 soldiers, but Britain has led those voicing caution.
The minister with responsibility for African affairs, Mark Malloch-Brown, said he had spoken to the UN's special representative on the crisis, Alan Doss, who had "renewed his request for troops."
"Our first priority is a political process backed by adequate humanitarian process," Malloch-Brown said.
Nkunda, who has declared a unilateral ceasefire, vowed in a letter to the UN mission in Kinshasa to allow "humanitarian organisations access to those in need who are behind our lines."
He also said a European force would be useless but that he would not oppose it as long as its mission was to "support peace."
UN forces' commander Colonel Samba Tall said the ceasefire called by Nkunda on Wednesday was holding.
Under its mandate, his troops could engage the rebels if necessary to protect civilians -- but Nkunda warned that the rebels would open fire if the UN tried to halt any advance.
"We cannot engage them, but if they shoot at us, they are soldiers, we will have to defend ourselves," he told AFP.
Washington's top diplomat for Africa was due in Goma Friday after meeting with Congolese President Joseph Kabila in Kinshasa on Thursday.
Jendayi Frazer, the assistant secretary of state for African affairs, said Wednesday that Nkunda and his men will be held accountable for actions in Goma.
Due to travel to Rwanda thereafter, Frazer wants a January accord signed by rebels and the government covering a ceasefire, demobilisation of troops and an amnesty to be resurrected.
A French embassy official in Goma, Bernard Sexe, said Friday that "people seem to be going back about their daily business, the taxi-motos are back on the streets."
Nkunda's forces and the army resumed fighting in August, breaking a ceasefire agreement signed in Goma in January.
The Tutsi rebels say they are defending the inhabitants of Nord-Kivu province against atrocities committed by Congolese forces and an allied Rwandan Hutu rebel group -- the Democratic Forces for the Liberation of Rwanda (FDLR).
The DR Congo government charges that Rwanda is backing Nkunda's rebellion.
Nkunda's forces have captured several key towns in eastern DR Congo, sparking a mass exodus from the countryside and risking what UN chief Ban Ki-moon called a humanitarian crisis of "catastrophic dimensions."
Aid agencies said at least 30,000 internal refugees were trapped between the rebels and UN forces blocking their access to Goma.
Around 8,000 people have crossed into Uganda, while about 1,200 people have entered Rwanda.