Libyan rebels on Saturday captured the last military base held by forces loyal to strongman Moamer Kadhafi in the Tripoli area on Saturday.
"NATO struck and then our special forces attacked," fighter Nurdin Yussef Misrata, 36, who took part in a dawn assault on the base of the elite 32 Brigade commanded by Khamis Khadafi, a son of the leader, told AFP.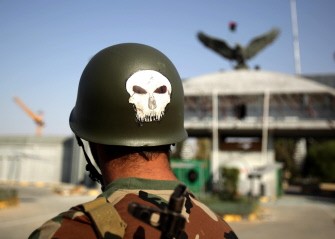 A Libyan rebel with a skull on his helmet stands guard outside the Salaheddin army barracks of the elite 32 Brigade near Tripoli on August 27, 2011.
He said the battle in Salaheddin, a suburb five kilometres (three miles) south of Tripoli, raged for seven hours. Drones overflew the capital overnight beforehand and the echo of explosions reached the heart of the city.
"Eleven rebels died yesterday," said Ali Zeidi, commander of a rebel unit from Misrata, adding that there were "higher casualties on the other side."
The complex of mustard-walled buildings had its walls holed by bombs, its roofs caved in and windows blasted open.
Within hours of the end of the battle, rebel fighters had completely emptied the storage rooms of weapons from Belgium, Germany, Italy, Korea, Russia and the United States, an AFP correspondent at the scene said.
All that remained were a small amount of ammunition and manuals outlining how to use weapons including Belgian submachine guns and rifle grenade launchers, 40 Korean automatic grenade launchers, Grad rockets from Russia, US rocket launchers, as well as spare parts for German binoculars.
There were also Italian armoured personnel carriers and Russian mobile telecommunications centres within the base.
Rebel fighters said that NATO had struck overnight a residence just outside the complex storing ammunition.
"There is a mountain of ammunition there. NATO has the right to bomb houses like that," said Majid Fayturi, a rebel commander from Misrata, who took part in the rebel assault