PARIS, March 26, 2011 (AFP) - Libya's rebels have thanked France for its role in the Western-led military blitz against the Kadhafi regime but said "outside forces" could now leave the country, in a letter published Saturday.
"In the middle of the night, your planes destroyed tanks that were set to crush Benghazi. ... The Libyan people see you as liberators. Its recognition will be eternal," wrote rebel leader Mahmoud Jibril in the letter addressed to President Nicolas Sarkozy, published by the French daily Le Figaro.
However, Jibril added: "We do not want outside forces. We won't need them. We will win the first battle thanks to you. We will win the next battle through our own means."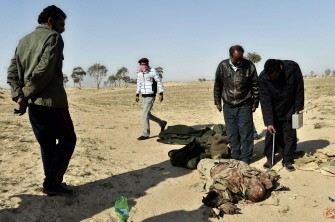 Libyans gather around the body of a dead pro-Kadhafi fighter in the strategic oil town of Ajdabiya whose control was seized by rebels from Colonel Moamer Kadhafi's forces on March 26, 2011. AFP
French, US and British air strikes against the regime of longtime Libyan leader Moamer Kadhafi began a week ago under UN Security Council Resolution 1973, which authorised "all necessary means" to protect civilians and set up a no-fly zone over the north African country.
Forces loyal to Kadhafi had been closing in on the eastern opposition stronghold of Benghazi when the campaign began.
Rebel forces early Saturday made their first significant victory since then, recapturing the strategic town of Adjabiya, also in the east.
France was the first country to recognise the rebels' "national council" as the "legitimate representative of the Libyan people" on March 10.
The rebels, emboldened by revolutions in neighbouring Tunisia and Egypt that ousted strongmen Zine el Abidine Ben Ali and Hosni Mubarak, launched their drive to topple Kadhafi, in power for 41 years, on February 15.
"The Libyan people, as well as neighbouring friends, notably our Tunisian and Egyptian brothers, see in the help you have brought a great gesture towards the Arab world," Jibril wrote.