DUBAI, Feb 17, 2011 (AFP) - Here are latest developments in the wave of unrest that is sweeping through the Middle East and North Africa.
LIBYA: At least four people were killed in clashes with Libyan security forces, according to opposition websites and NGOs, as the country faced a nationwide "Day of Anger" called by cyber-activists following revolts in neighbouring Egypt and Tunisia.

BAHRAIN: Riot police stormed through a Manama square firing rubber bullets and tear gas in a violent crackdown on anti-government protesters early Thursday that left four dead, witnesses and opposition said.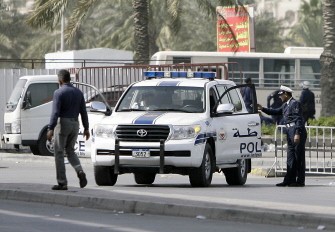 Bahraini policemen keep watch near Pearl Square in Manama on February 17, 2011. AFP

YEMEN: Protesters were expected to gather for more anti-government demonstrations in the capital Sanaa on Thursday, a day after violent clashes in the capital and in Yemen's main southern city of Aden in which two people died.

EGYPT: Egyptian workers tested the limits of the freedom they won in the revolt against Hosni Mubarak, staging pay strikes despite calls from the new military regime for them to return to work.

IRAQ: A teenager was killed when private guards shot at protesters who set fire to several government offices in Kut city, in Iraq's most violent demonstrations since uprisings in Egypt and Tunisia.

JORDAN: Around 1,500 Jordanians demonstrated late Wednesday in the northern city of Irbid, demanding reforms and denouncing "government corruption."

IRAN: Iran's government said it called a rally in Tehran for Friday to express "hatred" against the opposition movement, as its two key leaders launched fresh anti-government tirades despite demands they be hanged.